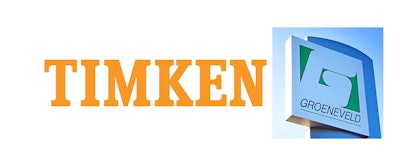 Bearings and mechanical power transmission manufacturer Timken announced Tuesday that it has reached an agreement to acquire Netherlands-based Groeneveld Group — a provider of automatic lubrication solutions used in on- and off-highway applications for approximately $280 million. Groenveld completed its 2017 fiscal year on May 31, in which it had total sales of about $105 million.
Groeneveld Group is headquartered in Gorinchem, Netherlands, with manufacturing facilities in Italy. Automatic lubrication delivery systems, which enhance vehicle and machine uptime through automated maintenance and safety support, represent the predominance of the company's offering. The company also has a small telematics business, Groeneveld ICT, which provides solutions for truck fleet operators. Groeneveld Group employs approximately 600 people.
"The acquisition of Groeneveld will further expand our presence in the automatic lubrication systems space, which we entered in 2013 with our acquisition of Interlube," said Richard Kyle, Timken president and CEO. "Groeneveld will bring a strong brand and management team, a global customer base and an industry-leading product portfolio that has an attractive market position in off-highway equipment and heavy trucks."
The move is the latest acquisition for North Canton, OH-based Timken, which has been actively diversifying its portfolio over the last five years. Along with Groeneveld, in the past year Timken has acquired couplings maker Lovejoy (announced July 8, 2016); acquired bearings housed units maker EDT Corp. (announced Nov. 11, 2016); acquired bearings and mechanical power transmission products maker Torsion Control Products (announced April 7, 2017); and industrial clutches and brakes maker PT Tech (announced May 5, 2017).
As part of the Groeneveld transaction, Henk Groeneveld, sole shareholder and non-executive president, will be retiring from the company. 
"Henk led Groeneveld for four decades and made it the company it is today, and he has put in place a great leadership team," said Kyle. "We wish Henk and his family well in retirement."
The transaction is expected to close in early July and will be funded with a combination of cash and debt.
Check out Groeneveld's 2017 corporate video below: