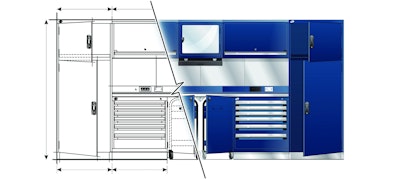 SAINT-JEAN-PORT-JOLI, QUEBEC — Rousseau Metal Inc. offers storage solutions adapted to the specific needs of its customers. An provider of personalized workstations, Rousseau offers functional and modular workcenters with a reputation for versatility, clean aesthetics and excellent durability. As part of its constant efforts to improve the customer experience, Rousseau has completely revamped its Bay Design tool.
Available in the automotive section of its website, the Bay Design configuration tool can be used to create a personalized technicians' workstation that fits your needs. In four easy steps, you can configure your workspace by choosing which components you need from the wide range available. You can configure almost every detail, from the dimensions to the color to the materials. Simply enter the space you have available in the field provided to ensure you choose the correct dimensions. The tool will warn you if your configuration exceeds your measurements.
When you are happy with your chosen configuration, you can save it in PDF format and save it in your account for future reference. You can also request a quote for the completed configuration. In the end, your distributor specializing in Rousseau products will allow you to go even further in your project by adding an array of customized solutions.
You'll love how easy and fast it is to build your own workstation. Try it out now! Visit us at www.rousseaumetal.com/auto.