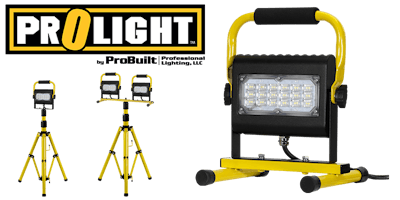 ProBuilt Professional Lighting, LLC announces the newest addition to our floodlight category, the ProLight™ Slim Line LED Floodlight Series. The ProLight™ Slim Line Series are high-powered, LED's which come in a 15 watt delivering 1,440 lumens, a 30 watt delivering 3,000 lumens and a 50 watt delivering 4,800 lumens. All offer a tripod option with a single head, while the 15 watt and 30 watt offer a tripod option with dual heads. The units feature a 180° pivoting head allowing for a bright white floodlight beam for an even spread of light, an on/off switch, comfort grip handle, no hot surfaces, no bulbs to change and 50,000 hour lamp life.

Compact at only an 1-3/4" max depth and extremely lightweight, the ProLight™ Slim Line LED Floodlight Series and extremely durable. The units are IP65 rated and suitable for use in all weather conditions. Cool operation enables the Slim Line Series to be used in confined spaces, making it ideal for the construction, Industrial/MRO, Utilities, Transportation and Environmental.

For more information on the complete line of ProBuilt Professional Lighting products visit our website.