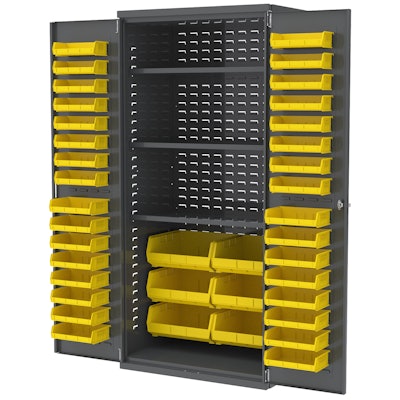 February 2016, Akron, Ohio — Akro-Mils, a North American leader in storage, organization and transport products, is expanding its line of industry-leading AkroBins® with the addition of two new bin models — 30232 (5-3/8" L x 4-1/8" W x 3" H) and 30242 (7-3/8" L x 4-1/8" W x 3" H).

These new bins offer large storage capacity in a small footprint. The short but wide dimensions of the new bins are perfect for desktops and workbenches, and the bins are designed to fit securely on the doors of Akro-Mils' Bin Cabinets. With the addition of these new sizes, AkroBins are now available in 17 sizes and a variety of colors, including Clear.

The industry standard for plastic hanging and stacking storage bins, AkroBins help control inventories, shorten assembly times and minimize parts handling. Molded of industrial-grade polymers, the bins are resistant to weak acids and alkalis. Designed for use in any setting — from industrial to medical/pharmacy to retail — AkroBins can be used alone or with Akro-Mils' steel cabinets, steel shelving, wire shelving, hanging systems and pick racks to create a complete storage and organization system.

For more information, visit https://www.akro-mils.com/Products/Types/Plastic-Storage-Containers/AkroBins .