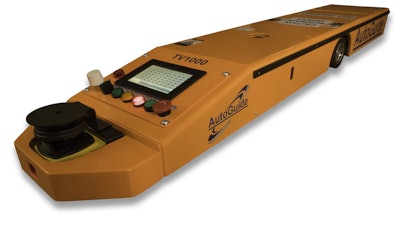 AutoGuide™ Introduces new Tunneling Automated Guided Vehicle
Low-profile TV1000 lowers costs for material handling, manufacturing and distribution

GEORGETOWN, Ky. (Oct. 30, 2015) – AutoGuide has introduced the TV1000, a low-profile automated guided vehicle (AGV) that tunnels under its loads to optimize assembly line processes and lean manufacturing. The state-of-the-art, computer-controlled TV1000 has a patent-pending, modular design that is the first of its kind.
The AutoGuide TV1000 transports materials through pickup and delivery routines. Its low profile allows it to tunnel under a cart, automatically hitch to it, and move it along a magnetic path.

"The technology and design of the TV1000 have already proven to be highly successful in world-class automotive manufacturing plants, and we're eager to introduce those benefits to more companies," said Scott McElmurray, vice president of AutoGuide. "It delivers immediate efficiencies and a quick return on investment."

The TV1000 uses a modular design that includes several components. This flexibility allows for configurations that result in easier handling, more cost-efficient maintenance, and arrangements that can be switched to precisely fit specific needs.

The TV1000 follows programmable routes along a magnetic induction navigation system. The system has the ability to program RFID tags directly from the vehicle. It uses a 24-volt system with 28 AMP-hour batteries, with opportunity charging as a standard feature. The TV1000 has a weight capacity of 2000 kg.
Additional features are online at http://www.autoguideagvs.com/tv-1000/

The TV1000 is the newest breakthrough innovation from AutoGuide, already a premier provider of AGVs. As with other AutoGuide AGVs, the TV1000 will maximize safety, reduce costs and limit product damage. AGVs ensure precise process flow around the clock, 24/7.

AutoGuide builds the TV1000 in Georgetown, Ky., located in America's manufacturing heartland. As a result, AutoGuide can deliver the TV1000 in weeks instead of months, and with more features standard, so that customers can start increasing productivity and grow their bottom line sooner.

About AutoGuide:
AutoGuide, a Heartland Automation Solutions Company, is a premier provider of automated guided vehicles (AGVs) that transport materials through pickup and delivery routines in a variety of facilities including material handling, manufacturing and distribution. AutoGuide is proud to be located in Georgetown, Ky., part of America's manufacturing heartland. For more information, visit www.AutoGuideAGVs.com or call +1 (502) 868-7638.