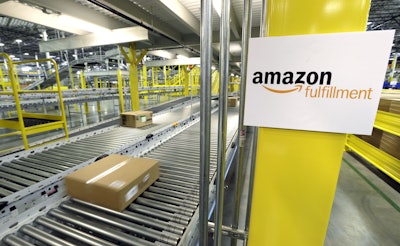 Amazon.com appears to be approaching the launch of a massive shipping network between suppliers in Asia and customers in the U.S.
Bloomberg reports that although officials with the Seattle e-commerce giant downplayed recent speculation about its entry into the logistics market, the project outlined in a 2013 internal report – named Dragon Boat – is steadily advancing and could debut as "Global Supply Chain by Amazon" as soon as this year.
The proposal would dramatically expand the company's existing Fulfillment by Amazon service, in which independent merchants sell their products on Amazon.com.
Under Dragon Boat, sellers around the world would secure shipping – via a website or mobile app – at cheaper rates due to the huge volume carried by Amazon.
Amazon would then ship goods overseas and, once delivered to its U.S. distribution network, send them to homes and businesses.
The project would also reportedly mirror Amazon's gradual entry into cloud computing operations. The system would initially utilize third-party carriers, but Amazon would eventually take over the entire operations.
The system could also enable Amazon to establish a financial services operation to meet its vast cost and paperwork requirements.
Dragon Boat appears to specifically target China. E-commerce trade between the U.S. and China is expected to hit $1 billion in revenue in the next five years, and Chinese rival Alibaba is reportedly exploring similar logistics possibilities.
Amazon's Chinese arm recently registered as an ocean freight carrier in both the U.S. and China.
In addition, the company is poised to acquire a French parcel delivery company and is expanding its own use of truck trailers and cargo planes – steps that appear likely to draw Amazon into competition with its current parcel partners.