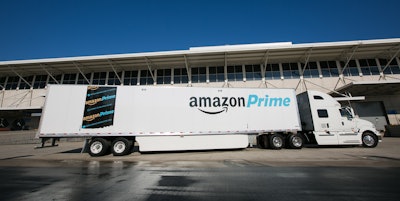 Amazon.com's purchase of thousands of truck trailers late last year fueled speculation that the e-commerce giant would gradually assume more control of its distribution – or become a full competitor in the trucking industry.
A report in The Wall Street Journal, however, found that Amazon's trucking partners aren't particularly concerned about those prospects.
In fact, two top U.S. trucking companies – and Amazon contractors – said that they expect business with the e-retailer to increase.
"They're growing so dramatically that it's hard for anybody to keep up with what they are doing in the marketplace," said Joey Hogan, COO of Covenant Transportation Group. "They need every truck they can get their hands on."
Covenant and Swift Transportation Co. trucks move goods from Amazon's distribution centers to shipping centers run by parcel carriers such as UPS or FedEx.
In December, reports indicated that the newly purchases trailers would transport products between Amazon facilities and allow the company to sort packages before they head to parcel carriers.
The trailers were intended to be used in areas already crowded with Amazon-related traffic, while other areas would be left to its current truckers.
Amazon, however, continues its efforts to curb rising shipping costs and avoid the delays that plagued parcel carriers.
The trailer purchases were one of several recent steps to bolster its internal transportation network. Amazon is also reportedly in talks to lease a fleet of cargo planes, and later this year will complete its acquisition of French delivery company Colis Privé.
Analysts believe that company could eventually be able to lease its vehicles and planes to third parties and compete directly with its current partners.