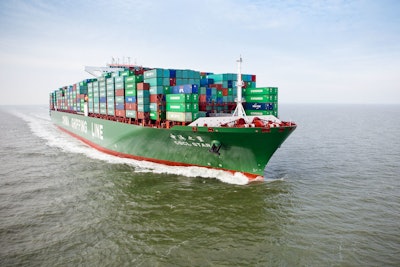 Amazon.com's burgeoning transportation network could be ready to add ocean shipping.
Reports said that the e-commerce giant's Chinese arm registered as an ocean freight forwarder with the U.S. Federal Maritime Commission.
A freight forwarding license allows Amazon China to provide freight service for other companies. The company would neither own ships nor transport its own products without further regulatory approval.
But the move represents a first step into the $350 billion ocean freight market, according to Ryan Petersen, the CEO of San Francisco freight forwarder Flexport.
Petersen, who first reported Amazon China's filing on his company's blog, wrote that Chinese factories would be able to sell directly to customers in the U.S. through Amazon's existing logistics network.
Amazon, meanwhile, would utilize its advantages in logistics and automation to curb the already low cost of ocean freight.
"This is a smart and long overdue move for the company," Petersen wrote.
Although Chinese companies would likely be enthusiastic proponents of Amazon freight, Petersen suggested that American companies would likely avoid the service in an effort to keep sensitive supplier and pricing data under wraps.
Ocean cargo shipping would represent one more step in the growth of Amazon's internal shipping options.
The company recently purchased thousands of truck trailers to ship between warehouses in the U.S. and is in talks to lease cargo jets for an expanded air freight campaign. Early this year, the company plans to acquire a French parcel delivery company outright.
Although Amazon hopes to curb its shipping costs and avoid the e-commerce hiccups experienced by conventional parcel carriers, observers said that the company could eventually enter direct competition with those companies in the global shipping market.