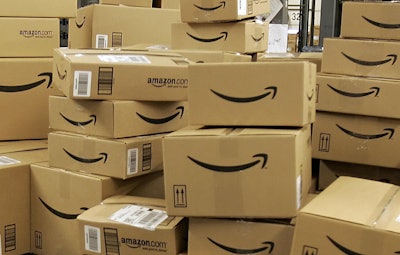 Amazon.com's long-rumored entry into the parcel delivery business appears imminent.
The e-commerce giant is poised to take over French delivery company Colis Privé, according to The Seattle Times. Amazon acquired a 25 percent stake in the company in 2014 and will buy the remainder within the next 12 weeks.
Following the acquisition, Colis Privé will continue to accept shipments from other customers, while Amazon officials told the French newspaper Le Figaro that the deal "doesn't call into question our work with all the other logistics providers" such as UPS and FedEx.
The move, however, is just the latest step by Amazon into the world of shipping.
As conventional carriers struggle to adjust to soaring delivery demand from Internet commerce, Amazon made a series of moves to internalize its transportation network — from drone delivery to an air freight pilot program.
In recent weeks, reports surfaced that Amazon purchased thousands of truck trailers and was in talks to lease 20 cargo planes.
Although Colis Privé is smaller than UPS or FedEx, experts said that Amazon could eventually develop shipping capabilities to the point where it could compete directly with those parcel giants.
"We believe Amazon has an advantage in the market by managing the logistics of its own core revenue-generating business, then extending that capacity as a service to other companies," wrote Baird Equity Research analyst Colin Sebastian.