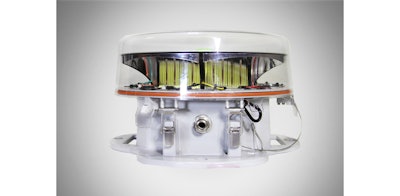 FARMINGDALE, NJ — Dialight offers its Vigilant LED Dual Red/White Strobe with Infrared (IR) obstruction lighting system. The Dual IR flash head and systems are approved through Intertek to the FAA AC 150/5345-43G and Engineering Brief No. 67D standards, with the addition of the IR LEDs to the standard red night operation to enhance visibility and safety for pilots, including those who utilize Night-Vision Goggles (NVGs).
The strobe features IR LEDs (in series with the red LEDs) operating with peak intensity at 850nm to ensure 360 degrees of visibility with the latest generation of NVGs utilizing Class B or C filters. The dual fixture is fully compliant to the IR intensity and angle standards set by the Finnish Transport Safety Agency, which is widely accepted as the international standard.
The strobe is based on the same low-profile, high-efficiency form factor as the company's standard dual strobe, with the addition of the IR LED module integrated into the flash head. The IR and red LEDs are controlled and monitored together to ensure proper night-time operation with only a negligible increase in power consumption. The IR-equipped flash head is also backwards compatible with existing red/white strobes in the field, via a simple change out of the flash head and driver.