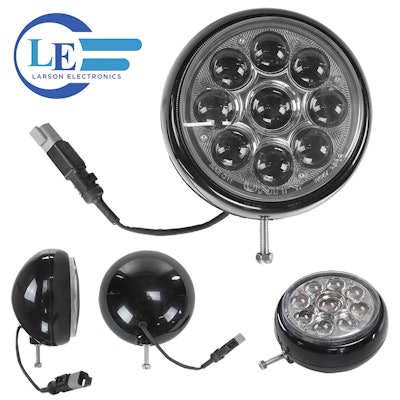 Larson Electronics announces the release of a 30 watt stud mounted LED spotlight that operates on a 12 volt electrical system making it ideal for added auxiliary lighting for trucks, equipment, or all-terrain vehicles.
The PML-30W-PAR46-NS LED light from Larson Electronics produces 2,700 lumens of light, is housed within a rugged weatherproof housing equipped with a stud bracket for mounting, and operates on a 12 volt electrical system while drawing only 2.5 amps. This LED light is weather proof and designed for mounting to vehicle bumpers, roll bars, brush guards, turrets and almost anywhere a powerful auxiliary light is needed. This light produces a spot beam that can reach distances up to 600' and has a beam width of 100'. The 30 watt PAR46 LED light emitter in this unit is highly resistant to damage from shocks and vibration as well as up to 80% more efficient than incandescent lights. It has an average lifespan rating of 50,000 hours, making it an ideal choice for military and construction vehicles and equipment where reliability is important. This new LED light is fitted with a 5/8 – 18X2 stud that can be mounted to vehicle bumpers, roll bars, or the turrets of armored vehicles. This lamp is designed for rugged use and will hold position even under aggressive driving conditions. The LED lamp assembly in this light contains a built in driver which allows it to operate directly on a 12 volt power source. The low voltage capability makes the light ideal for use on cars or trucks which normally use 12 volt DC electrical systems.
"This new stud mounted LED light has been released just in time for the hunting season," said Rob Bresnahan with Larsonelectronics.com. "This spotlight will over power those standard head lights on most vehicles and ATVs."
Larson Electronics carries an extensive line of LED light towers, portable power distributions, explosion proof lights for hazardous locations, portable work lights and industrial grade LED area lights. You can view Larson Electronics' entire line of lighting by visiting them on the web at Larsonelectronics.com. You can also call 1-800-369-6671 to learn more or call 1-214-616-6180 for international inquiries.