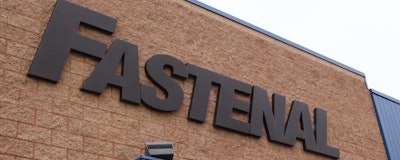 Fastenal shared its July 2018 sales information on Tuesday, showing another strong month for the company.
The Winona, MN-based fastener and vending solutions provider had July sales of $411.6 million, up 17.6 percent year-over-year (YoY) overall, with daily sales up 12.0 percent. June had sales of $427.2 million.
It was the company's 14th-straight month with at least a 12.0 percent YoY increase in daily sales.
Notable stats in Fastenal's July report:
Daily sales grew 10.8 percent YoY in the U.S., compared to 11.6 percent in June
Daily sales grew 11.5 percent YoY with manufacturing customers, compared to 14.0 percent in June
Daily sales grew 16.4 percent YoY with non-residential construction customers, compared to 17.4 percent in June
Daily sales of fastener products grew 10.2 percent YoY, compared to 13.5 percent in June
Daily sales of other products grew 13.7 percent YoY, compared to 14.1 percent in June
Daily sales for national accounts grew 16.0 percent, compared to 20.0 percent in June
Daily sales for non-national accounts grew 7.0 percent, identical to June
75.0 percent of Fastenal's top 100 national accounts grew sales, compared to 81.0 percent in June
65.5 percent of Fastenal's public branches had growth, compared to 67.0 percent in June
Fastenal's total employee headcount ended July at 20,854, essentially identical to June and up 3.1 percent (+624) YoY. Total selling personnel of 13,905 at the end of July was up 3.6 percent YoY.
The July report comes four weeks after Fastenal's Q2 earnings report, which showed Q2 sales of $1.27 billion grew 13.1 percent YoY, while profit of $211.2 million jumped 21.2 percent.
Here's how Fastenal's monthly daily sales growth has fared since the start of 2015.
| | | | | | | | | | | | | |
| --- | --- | --- | --- | --- | --- | --- | --- | --- | --- | --- | --- | --- |
| | Jan. | Feb. | Mar. | Apr. | May | June | July | Aug. | Sept. | Oct. | Nov. | Dec. |
| 2018 | 12.0 | 14.8 | 13.1 | 13.4 | 12.5 | 13.5 | 12.0 | | | | | |
| 2017 | 3.8 | 6.1 | 8.4 | 8.9 | 9.7 | 13.0 | 12.9 | 12.8 | 15.3 | 13.8 | 15.4 | 14.7 |
| 2016 | 3.3 | 2.6 | 0.0 | 3.8 | 1.1 | 0.0 | 2.1 | 0.3 | 2.8 | 3.9 | 1.2 | 3.2 |
| 2015 | 12.0 | 8.6 | 5.6 | 6.1 | 5.3 | 3.7 | 3.2 | 1.6 | -0.3 | -0.8 | -1.1 | -3.8 |