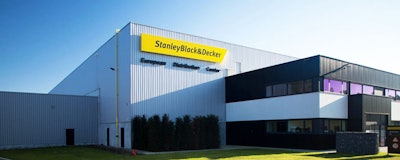 Stanley Black & Decker (SBD) reported its 2018 first quarter financial results on Friday, showing continued strong growth for the industrial supply giant, though the pace of growth slowed compared to 2017.
The company posted total Q1 sales of $3.2 billion, up 12.4 percent year-over-year (YoY, following 17 percent growth in Q4 2017. Of the Q1 growth, approximately 4 percentage points came from organic growth, along with 6 points from acquisitions and 4 points from currency, offsetting a negative 2 points from divestitures. The company's organic growth was 7 percent in Q4, Q3 and Q2 of 2017.
New Britain, CT-based SBD's total Q1 profit was $170.1 million, far less than the $393.7 million it had a year earlier, as Q1 2018's cost of sales increased 14.1 percent. Q1 2018's operating profit of $299.2 million likewise compared with $516.1 million from a year earlier. Q1's gross margin rate of 36.3 percent. Excluding charges, gross margin of 36.4 percent was down 120 basis points YoY.
During Q1 on April 2, SBD completed its previously announced acquisition of Elyria, OH-based Nelson Fastener Systems for $440 million.
By business segment in Q1:
Tools & Storage sales of $2.22 billion jumped 17.0 percent YoY, driven by an 8-percentage point gain from acquisitions, a 6-point gain from volume and a 3-point gain from currency. Organic growth was 6 percent, including +15 percent in emerging markets; +7 percent in Europe and +3 percent in North America. Segment profit of 14.3 percent was down from 15.9 percent a year earlier.
Industrial sales of $504.2 million increased 5.1 percent YoY, powered by a 6-point gain from currency. Engineered Fastening organic sales were flat, while Infrastructure organic sales were down 1 percent. Segment profit of 16.4 percent was down 130 basis points from a year earlier.
Security sales of $489.3 million increased 1.6 percent YoY, which included flat North American organic growth. Segment profit of 9.6 percent was down 100 basis points from a year earlier.
Celebrating its 175th anniversary throughout this year, SBD downgraded its previous 2018 outlook, accounting for charges associated with the Nelson Fastener Systems acquisition and a one-time tax charge, along with higher inflation expectations that include impacts from steel and aluminum tariffs.
"The organic growth outlook remains robust as we execute a series of opportunities including Lenox and Irwin revenue synergies, FlexVolt, emerging markets and the rollout of the Craftsman brand, all while the organization remains focused on generating new core and breakthrough innovations," SBD president and CEO James Loree said. "In addition to organic growth, we continue to focus on strategic capital allocation actions. The Nelson Fastener Systems acquisition was completed in early April. We continue to see a strong acquisition pipeline and are exploring multiple opportunities to create significant value."