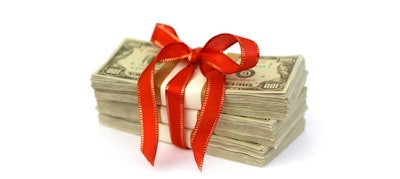 GLENVIEW, IL — More than 60 percent of small business owners will offer a holiday or year-end bonus to employees this year, according to the November 2016 SurePayroll Small Business Scorecard.
It's a spike from two years ago when SurePayroll surveyed business owners about bonuses, and only 52 percent were providing additional pay. This year, 64 percent will give a bonus.
Only 29 percent said the amount they would give was negatively impacted by macroeconomic events, compared to 36 percent two years ago.
Small business owners also expressed more optimism about the economy than a year ago, with 75 percent saying they're optimistic compared to 68 percent last November.
"This appears to be part of a trend we've been seeing for a while, as small business owners reported meeting and exceeding their goals financially," said SurePayroll General Manager Andy Roe. "Aside from last month when optimism was fairly low, optimism and more specifically profits have been steady. Now they're rewarding their employees accordingly."
Learn more about our Scorecard on the SurePayroll Blog.