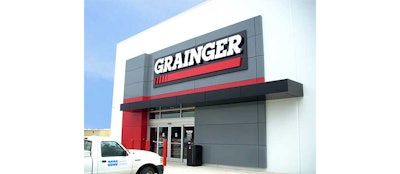 A report Thursday by the Fay Observer said that Grainger plans to close its Fayetteville, NC branch on Oct. 28.
According to the report, signs inside Grainger's 13,500 square foot warehouse on Fayetteville's south side announce the closure plan. Grainger built the warehouse in 1998.
The closure is in line with Grainger recent business activity, as it closed 27 U.S. branches in its fiscal second quarter and opened one. In its Q1 earnings report, the company announced a plan to readjust its U.S. branch network that included closing 55 locations. As of June 30, Grainger had 300 U.S. branches and 19 distribution centers.
The report mentioned Grainger has been closing physical store locations as it increases its focus on e-commerce, which comprised 46 percent of sales in the first half of 2016, up from 40 percent a year earlier.