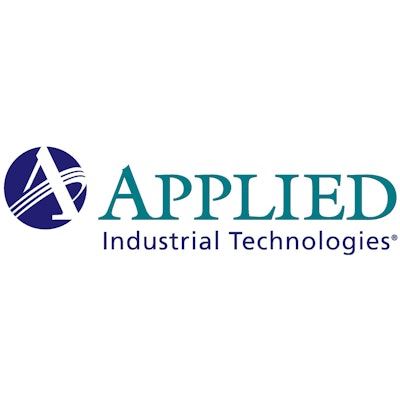 Cleveland, Ohio-based Applied Industrial Technologies — No. 16 on Industrial Distribution's 2015 Big 50 List — reported its 2016 fourth quarter and full year fiscal results on Friday for the period ended June 30.
The company posted Q4 sales of $634 million, down 6.4 percent year-over-year. The decrease included a 2.4-point gain from acquisitions, offset by a 7.6 percent decline in organic sales and a negative 1.2 percent impact from currency headwinds. Applied said that of the 7.6 percent organic decline, 3.9 was attributable to core operations, with the rest from sales to the upstream oil and gas markets. Sequentially, Q4 sales were essentially flat compared to Q3's $633.2 million.
Applied — which announced on June 15 the acquisition of Burlington, Ontario-based Seals Unlimited — had a Q4 total profit of $26.1 million, down from $28.0 million a year earlier.
For the full year, Applied's 2016 sales were $2.52 billion, down 8.4 percent from 2015. Total profit of $29.6 million compared with $115.5 million in 2015. However, 2016 included a $64.8 million goodwill impairment charge that 2015 didn't have. Gross profit of $707.4 million in 2016 was down 8.1 percent from 2015. Applied lowered its 2016 selling, distribution and administrative costs by 5.4 percent 2015.
"Our fourth quarter and full-year results reflect an economic environment that continues to be challenging," said Applied president and CEO Neil Schrimsher. "Sequentially, fourth quarter demand was generally flat compared to the third quarter, including reduced demand in oil and gas, mining and other industrial end markets."
Schrimscher also said that Applied will launch a new e-commerce website later this month.
For 2017, the company is forecasting full year sales change to range from a 3.0 percent decline to 1.0 percent growth.