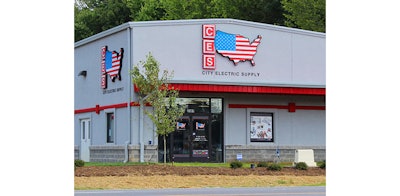 Dallas, TX-based City Electric Supply has announced the opening of new locations near Auburn, AL and Destin, FL.
The Alabama location, under construction at 3762 Pepperell Parkway in Opelika, AL, is named City Electric Supply Auburn.
"We are thrilled to introduce ourselves to the area and ready to serve this community. We have several good competitors here, but we can't wait to show people the CES difference," CES Group Manager Steve Wilder said.
CES Auburn is set to open for business in June 2016.
"We're really excited about this location. It's central to both the Auburn and Opelika areas. People like to buy locally and I am born and raised in Auburn — no one can provide better customer service than this group!" branch Manager Tim Rowell said.
Rowell has 30 years experience in electrical distribution and prides himself and the opening of this business on key values: customer service, honesty, hard work.
Grand opening event date to be determined once construction is completed.
In Florida, renovations are currently underway for City Electric Supply Destin at 4650 Gulfstarr Dr.
"We are thrilled to open doors in Destin — this is the only electrical wholesale supply house between Fort Walton Beach and Panama City. Contractors, homeowners, and condominium associations need this here," CES group Manager Scott Thistlewaite said.
The Destin location will be led by branch manager Larry Suggs, who himself and his team are handling much of the renovation. CES said Suggs is celebrating three years of service to CES through his promotion, which now allows the opportunity to open and run a branch.
The new location will hold a grand opening event after renovations are complete, with a date to be determined.