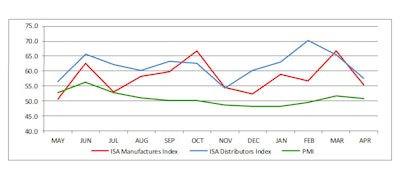 The Industrial Supply Association posted its April Economic Indicator on Thursday, led by declines in all three indexes — ISA's Distributors Index, ISA's Manufacturers Index and the Institute of Supply Management's PMI (Purchasing Managers Index).
The Distributors Index declined for a second straight month, down from 65.3 in March to 57.5 in April. The Distributor Index peaked at 70.3 in February. 
The Manufacturers Index had a considerable decline from 66.6 to 55.5, following a healthy February-to-March gain. The March Manufacturers Index reading was its highest since October.
Meanwhile, the ISM PMI had a slight dip from 51.8 to 50.8.
For each index, a reading above 50 percent indicates expansion, while a reading below 50 percent indicates contraction. So while the indexes still indicate growth for ISA members, April was at a slower pace.
"However, indications are that the coming months seem positive," ISA said in its report Thursday.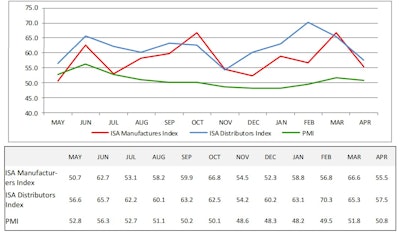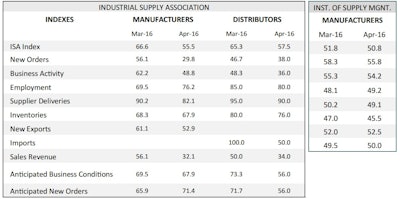 Here is a selection of comments from manufacturers in regards to the latest numbers. There were no comments from distributors:
"Business activity better last two months than first two months of 2016. Energy sector is main driving issue. Optimistic about 2nd half of 2016."
"Base business is still negative compared to last year - new orders have boosted sales."
"April rebounded from a slowdown in March. New Orders are still spotty. I am hoping to maintain current pace but do not see any real growth soon."
"Still not seeing any bounce-back as we thought by now, perhaps the election is keeping these current levels we really can't say. Considering the forecasters/economist had our industry trending up moving into one of the best years on record in 2017, its been anything but."
"We started to see orders improving in March, then dropped off again in April."
"Month started strong but got more erratic as we moved through the month. Still having trouble putting five good days together or several good weeks to make a good month."
"Still experiencing steady but sluggish market conditions. We expect somewhat better conditions in the Q3 and Q4 but not great."
"We are seeing some indications that the bottom is close."
"We're very busy. Finding it extremely difficult to hire good help which is nothing new, but getting more difficult as time goes on, even with beginning wages at 2X the minimum."
"The economy slowed in Q1 and we felt it."