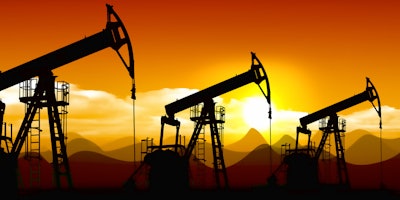 The price of crude oil closed the market day Monday at $47.76, a six-month high and an 82 percent gain since bottoming out at $26.21 on Feb. 11. Monday was oil's highest mark since Nov. 3, 2015.
The price of crude oil dipped below $27 in January and February, but has risen steadily since.
"The oil market has gone from nearing storage saturation to being in deficit much earlier than we expected," said Goldman Sachs analysts Monday, adding that they expect the price of U.S. benchmark oil to be around $50 per barrel in the second half of 2016. That's up from the forecast of $45 Goldman made back in March.
Oil hasn't been above $50 since July 21, 2015.
Oil's current price is still less than half the $107 level it was at before its massive drop began in June 2014, but is a welcome recovery to the industrial distribution and manufacturing sector. Cheap oil has been the leading cause of an overall weakened product demand and industrial recession.
Houston oilfield services company Baker Hughes said Friday that the number of U.S. rigs exploring for oil and natural gas dropped another nine to 406, setting another all-time low.
One year ago Friday, that count was more than double at 888 active rigs.
The AP said Texas declined by seven rigs, Louisiana declined by three, while North Dakota, Oklahoma and Wyoming each fell by one. New Mexico gained two rigs and California gained one. Alaska, Arkansas, Colorado, Kansas, Ohio, Pennslyvania, Utah and West Virginia were all unchained.
Peaking at 4,530 U.S., rigs in 1981, the count hit a low of 488 in 1999, which remained the low mark until this past March 11, and has slid further since.