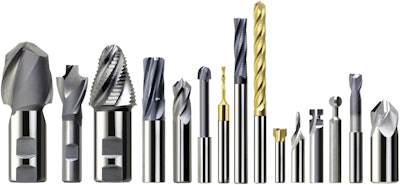 MCLEAN, VA — March U.S. cutting tool consumption totaled $184.08 million according to the U.S. Cutting Tool Institute (USCTI) and AMT – The Association For Manufacturing Technology.
This total, as reported by companies participating in the Cutting Tool Market Report (CTMR) collaboration, was up 6.2 percent from February's $173.38 million and down 7.9 percent when compared with the total of $199.89 million reported for March 2015. With a year-to-date total of $516.12 million, 2016 was down 8.5 percent when compared with 2015.
These numbers and all data in this report are based on the totals actually reported by the companies participating in the CTMR program. The totals here represent the majority of the U.S. market for cutting tools.
"The cutting tool industry seems to be on its current plateau, which shows slow sales volume improvements for the last four months. Improvements in the domestic economy and international markets are necessary to establish growth in our industry," says Brad Lawton, chairman of AMT's Cutting Tool Product Group.
Improvements may be on the horizon as leading indicators and business indexes have progressed in the past few months.
"Cutting tool shipments in March were the highest in nine months. However, shipments remained relatively weak as they continued to contract compared with one year ago," adds Steve Kline, director of market intelligence at Gardner Business Media."The good news is that some of the earliest leading indicators for the metalworking industry, such as interest rates, exchange rates and housing permits, have been moving in a positive direction for a number of months. Also, our own business index has shown some improvement in the metalworking industry since November."