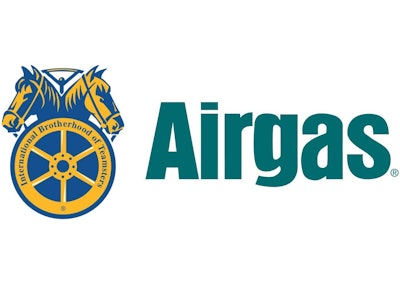 On Tuesday, Airgas employees and representatives for the International Brotherhood of Teamsters protested outside Air Liquide's U.S. headquarters in Houston as Airgas shareholders approved Air Liquide's $10.3 billion purchase of Airgas.
The Teamsters issued a press release Tuesday detailing their protest, in which Airgas employees held signs that read, "Air Liquide: Stop the Attacks," demanding that Air Liquide stop what Teamsters call "Airgas' attacks on workers and their unions."
The release detailed the alleged Airgas attacks.
"Last year, Airgas locked out workers in Massachusetts, halting deliveries to hospitals and other customers throughout New England," said Teamsters general secretary-treasurer Ken Hall in the release. "And across America, Airgas has been conducting a campaign to introduce wage discrimination schemes, threaten workers with loss of healthcare benefits and wages during collective bargaining, and attempting to break its workers' unions by illegally threatening union activists."
"Air Liquide would never get away with treating its French workers this way," added Keith Gleason, director of the Teamsters Tankhaul division. "We are here to ask Air Liquide to treat its American Airgas employees with the same respect that it treats its French employees."
Teamsters said that all 45 local unions representing Airgas workers signed a letter asking the union that represents Air Liquide workers in France to call on the company to open dialogue with its American workers. The release added that Teamsters general president Jim Hoffa and general secretary-treasurer Hall also wrote to Air Liquide's CEO Benoît Potier, asking for his cooperation in addressing "the rapidly deteriorating relationship between Airgas and its workers."
"Airgas workers in Charleston, WV, voted for union representation more than a year ago, and have been trying to negotiate a first contract ever since," the release quoted Luke Farley, a business agent with Teamsters Local 175. "Airgas refuses to bring Charleston workers' pay up to local standards, and doesn't want workers to have the right to honor picket lines. This is outrageous – the company would never dare to treat workers this way in France."
Airgas was No. 9 on Industrial Distribution's 2015 Big 50 List. The acquisition by Air Liquide is valued at $13.4 billion as Air Liquide is assuming $2.8 billion of Airgas' debt along with the $10.3 billion purchase price.