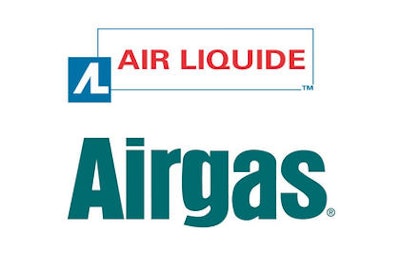 In one of the largest industrial acquisitions in recent years, Air Liquide has agreed to purchase Airgas for $13.4 billion, the companies announced Tuesday.
The move will significantly strengthen Paris, France-based Air Liquide's industrial gas supplying position in North America. Bloomberg reported Tuesday that with the deal, Air Liquide becomes the world's largest industrial gas supplier by sales, leaping Linde AG, Air Products & Chemicals, and Praxair.
The purchase price of Airgas was $10.3 billion, and Air Liquide is also assuming $2.8 billion of Airgas debt.
Air Liquide has operations in 80 countries, supplying gas to a range of markets. Air Liquide has more than 140 industrial gas plants in the U.S., with its American headquarters based in Houston. The company had $16.4 billion in 2014 revenue.
Airgas – No. 9 on Industrial Distribution's 2015 Big 50 List – had 2014 sales of $5.37 billion. The company's 2015 first quarter posted a 3 percent year-over-year sales increase, including a 2 percent increase in organic sales, while profit dipped 0.7 percent. In Q2, sales dipped 1.2 percent year-over-year while profit was flat.
Free Webinar Coming Dec. 8: Top Distribution Trends for 2016
"This combination offers significant benefits for all of our stakeholders due to the highly complementary nature of the two businesses," Air Liquide Chairman and CEO Benoît Potier said in a statement. "It also advances Air Liquide's vision to lead the industry and deliver long-term performance while acting responsibly. This acquisition increases our geographic reach in the resilient U.S. market, and offers continuous growth opportunities.
"Airgas is the industry leader in U.S. packaged gases with a customer-centric organization and we are confident in our ability to successfully combine operations. Airgas is a unique partner, and together we will continue to advance our strategy based on profitable growth and innovation over the long-term."
Radnor, Pennsylvania-based Airgas, which also distributes, welding supplies and safety products, was approached for purchase in 2011 by Air Products & Chemicals, Inc. for $5.9 billion, but the two sides couldn't agree on a deal.
Airgas has approximately 17,000 employees.
"Air Liquide's long-term vision and strong heritage in the U.S. make it the right fit for our valued customers, and the combination creates significant opportunities for the talented employees of both companies," said Peter McCausland, Airgas Executive Chairman. "Airgas customers and employees will benefit from Air Liquide's unrivaled global footprint and strength in technology, innovation and operational efficiency, while Airgas is ready to bring the entrepreneurial culture and packaged gas excellence that have driven our success to date. We are excited about the prospects of integrating these two businesses to create the largest industrial gas company in the world."
An Airgas press release stated that the acquisition will increase Air Liquide's Gas & Services sales by approximately 30 percent, and that the combined company "will be the leader in North America, complementing number one positions in Europe, Africa/Middle East and Asia-Pacific. It will also be number one in Industrial Merchant and Large Industries, and co-number one in Electronics, worldwide."
Airgas becomes the second company on ID's Big 50 list to be acquired in 2015. In July, Interline Brands – No. 19 on the Big 50 – was acquired by Home Depot in July for $1.63 billion.