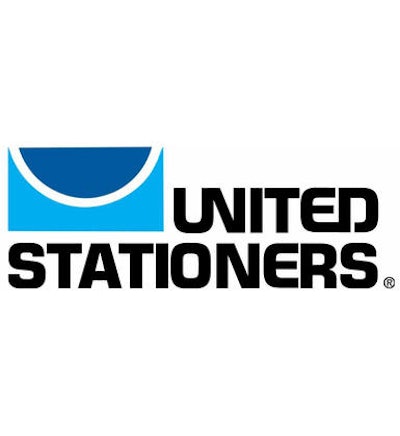 United Stationers, which rebrands as Essendant effective June 1, reported its 2015 first quarter financials on Thursday and provided an update on its company repositioning.
The company reported Q1 total sales of $1.33 billion, a 6.2 percent year-over-year increase from Q1 2014. The increase was primarily driven by prior year acquisitions. Those acquisitions caused adjusted operating expenses to increase to $167.9 million, compared to 2014's $148.8 million.
The company had a net profit loss of $4.0 million, while an adjusted operating income of $36.5 million was down slightly from 2014's $38.2 million.
"Our results reflect solid execution of our strategy despite a decline in our core industrial business from weakness in the energy sector," said Cody Phipps, United Stationers President and CEO. "This quarter we took decisive actions to maximize future operating results and deliver enhanced customer service in the years ahead. We are investing in a common operating and information technology platform, consolidating our workforce and facilities, rebranding the company to Essendant across our businesses, and exiting a non-strategic and low margin business.
"These actions are consistent with our strategy to become the fastest and most convenient solution for workplace essentials. I remain confident these actions will accelerate our operating performance, position us for success in the market, and benefit our shareholders."
United Stationers' sales of industrial supplies increased 57.2 percent to $210.3 million, including $90.2 million from the CPO and MEDCO acquisitions made in 2014. Weakness in the energy and industrial sectors drove a $13.7 million sales decline in the core industrial business. Janitorial and breakroom supplies sales increased 8.3 percent to $357.7 million from $330.3 million. Total office products sales were down 3.5 percent to $727.3 million from $753.6 million.
The company reiterated its plans for ongoing repositioning, aimed to "provide enhanced customer service, and create sustained long-term success." Those actions include investing an incremental $15.0 million this year to move to a common operating/information technology platform that will simplify the customer experience and deliver operating cost savings. United Stationers said it invested $1.0 million in Q1. The company expects total cost savings from this initiative are expected to be $5.0 to $10.0 million in the second half of 2016, and $15.0 to $20.0 million on an annual basis thereafter. United Stationers also recorded a pre-tax charge for workforce and facility consolidations of $6.4 million. An additional pre-tax charge of $9.0 million to occur later in 2015 is expected to drive savings of $6.0 million in 2015 and $10.0 million annually beginning in 2016.
Last week, United Stationers announced its new COO and CIO.