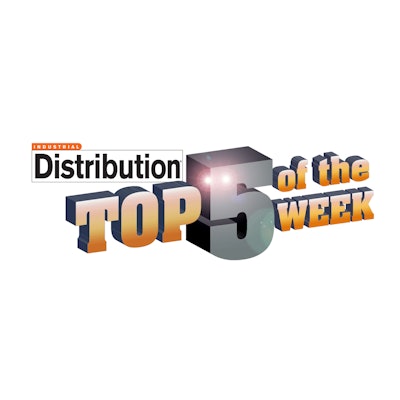 Further commentary from my interview with Grainger CEO D.G. Macpherson led the way this past week, while two thought-leadership pieces and an executive appointment at Kaman Fluid Power also drew attention.
Here's this week's Top 5
Grainger CEO Talks Industrial Economy, Branch Downsizing, Amazon: See what CEO D.G. Macpherson had to say at the recent Grainger Show about the current U.S. industrial economy, the company's 2016 branch downsizing and how Grainger views Amazon Business.
Distribution Sales - The Best Offense Is A Great Defense: Paul Reilly discusses distributor salespeople's struggle with the value reinforcement aspect of defensive selling, and why documentation is key to retaining existing customers.
Video - What Do Grainger's Consulting Services Do?: From the expo floor of Grainger Show earlier this month in Orlando, hear from two Grainger Consultive managers about how the company helps customers increase efficiencies and decrease costs.
Kaman Industrial Tech. Appoints New VP Of Kaman Fluid Power: Kaman Industrial Technologies — No. 20 on ID's Big 50 List — has announced that KIT vice president of marketing, David Mayer, will become vice president and general manager of Kaman Fluid Power effective April 3.
Distributors' Hidden Differentiator - Product Content: While product quality, services and pricing tend to be the same for distributors of like-products, an emphasis on product content is still an area largely untapped by distributors. Codifyd's Dana Kleifield explains.