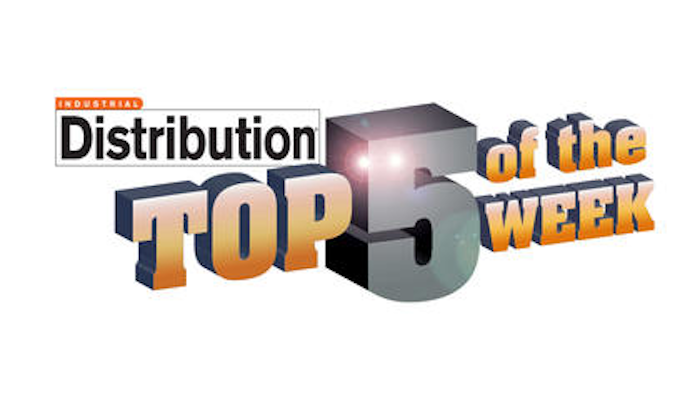 This week the industry was rocked again by big news from Amazon, which will absorb AmazonSupply into AmazonBusiness. News of multiple acquisitions were big items, while seven ID Big 50 companies also released their quarterly financial reports between this past Wednesday and Friday.
Here's this week's Top 5:
Amazon Announces 'Amazon Business,' Will Close AmazonSupply: This was ID's biggest news item of 2015 so far by a wide margin. There had been rumors that Amazon would consolidate AmazonSupply back into its core business, though the e-tailer officially flipped the script by announcing it will be subsumed into its new B2B online marketplace, Amazon Business. Amazon Business has been designed to provide easy access to hundreds of millions of products – everything from IT and lab equipment to education and food service supplies – as well as business-only selection and pricing.
Dutch ERIKS nv Acquires 2 U.S. Distributors: Dutch firm ERIKS – No. 15 on the Big 50 – recently expanded its sealing components product offering and fabrication capabilities through the addition of Fort Worth, TX-based Seals & Packings, and Greenville, SC-based Action Industrial Group. Along with added logistical and engineering capacity, the acquisitions will expand ERIKS' reach into the oil and gas industry.​
Stellar Industrial Supply To Merge With Impact Industrial Supplies: Tacoma, WA-based Stellar made a major geographic move by joining forces with Tampa Bay, Fl-based Impact, giving it a presence on the opposite side of the country to compliment its 11 other branches along the West Coast. I spoke with Stellar CEO John Wiborg, as well as Impact CEO John Diaz at the ISA Convention this past Sunday, so stay tuned to IndDist.com for their thoughts on the merger.
From The ISA Floor: BlackHawk Industrial CEO Talks Expansion, Validation (Blog): Blogged on location Monday from the ISA 2015 Convention in Cleveland, OH, BlackHawk Industrial CEO Bill Scheller discussed the company's recent acquisition of Pioneer Tool Supply, BlackHawk's overall acquisition strategy, and a major award it won from ISA.
Kaman Industrial Tech. Sales Soar In Q1: Largely boosted by the completed acquisition of B.W. Rogers, Kaman Industrial's Q1 sales jump 20 percent year-over-year while operating income was up 10.5 percent. Four additional selling days in the quarter were also a plus, whole organic sales were up 2.1 percent on a same-day basis. It was Kaman Corp.'s sixth straight quarter of organic sales growth.