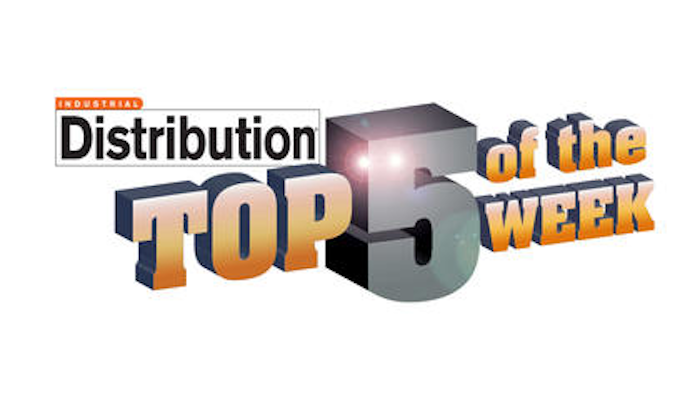 ​More big news out of Fastenal dominated the past seven days on Industrial Distribution, as the company announced its third CEO change in 11 months on Tuesday, along with a flat Q3 earnings report. Our Video Market Report recapping that news and more received considerate traction, as did Paul Reilly's latest sales article.
Here's this week's Top 5
Fastenal Makes Third CEO Change In 11 Months, Reports Flat Q3: The company announced that Dan Florness, Fastenal's chief financial officer since 1996, will become president and CEO effective Jan. 1, 2016. The leadership change comes less than three months after Fastenal reappointed former CEO Will Oberton to the position. Oberton, 57, had replaced Leland Hein, 54, who stepped down into the role of COO. Oberton had been Fastenal CEO from 2002 through last year, and will continue to be chairman after Florness takes the CEO position. The company, which last week announced the acquisition of Spokane, WA-based Fasteners Inc., reported Q3 2015 sales of $995.3 million, a 1.5 percent year-over-year increase, essentially flat compared to Q2's $997.8 million. A Q3 profit of $136.5 million was a 2.4 percent increase from last year, and a 2.8 percent decrease from Q2.
VMR - Fastenal's Roller Coaster Week, Wolseley's CEO Search, And An Acquisition For Würth: Featuring myself and ID executive editor Anna Wells, our latest Video Market Report discusses this Fastenal-filled week, which also included its big acquisition of Spokane, WA-based Fasteners Inc. We also discuss Wolseley's reportedly ongoing CEO search, and Wurth Group's recent acquisition of Des Moines Bolt.
Fastenal To Pay $1.25 Million To Settle Hiring Discrimination Lawsuit: Carrying over from when the news broke Oct. 8, the U.S. Department of Labor said that Fastenal was found to have discriminated against 8,453 job applicants who sought general warehouse positions at two of its distribution facilities in Indianapolis and Atlanta. The DoL's Office of Federal Contract Compliance Programs said that during its investigation, it found that Fastenal destroyed or failed to provide various employment records from both facilities in an alleged attempt to hinder the investigation. As a result, Fastenal has offered 171 job positions to applicants in Indianapolis and Atlanta, and will pay $1.25 million in back wages and interest to the 7,398 African American and 1,055 female job applicants affected. The OFCCP said Fastenal did not admit liability, and that the violations occurred while Fastenal received more than $35 million in government contracts for its products. The investigation covered the years 2011 and 2012.
Don't Let Sales Growth Fool You: Paul Reilly, President of Reilly Sales Training, discusses the deceiving nature of sales increases and the importance of staying hungry for growth even if business is already good.
Report - Manufacturing Skills Gap Could Hit 2M Jobs By 2025: A new report estimates that a majority of needed manufacturing jobs could go unfilled over the next decade without better cooperation by industry, government and higher education.
Free Whitepaper: The New Benchmarks for Pricing Excellence