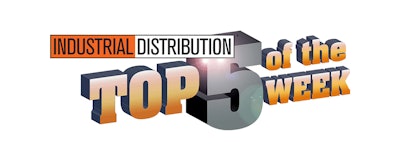 With no major news announcements this past week, it was several thought-leadership pieces that drove content on ID. They discuss the plight of distribution inside sales, how to achieve a modern sales model, and policies vs. rules in warehousing.
Here's this week's Top 5
6 Reasons Distributor Inside Sales Fails: Despite the benefits that a proactive inside sales teams can provide a distributor, it can be challenging to successfully implement such an inside sales strategy. Here are six common reasons for its failure.
Adopting A Modern Sales Model In Distribution: As the buyer-seller relationship has fundamentally shifted with the internet replacing the sales rep as the customer's primary source of information, the role of the sales force needs to adjust accordingly. Here, Earl van As explains this new market dynamic and how distributors should adjust accordingly.
Confusing Warehouse Policies With Rules Has Serious Consequences: No manager wants to own the guilt associated with failure to enforce safety rules. Here, Nancye Combs explains the difference between a rule and a policy and provides a guide to establish rules that are reasonable and enforceable.
Industrial Distribution's 2017 Big 50 List: We're now less than two weeks from starting to unveil our 2018 Big 50 List, and naturally, last year's list continues to see an uptick in views.
China Announces $60B Of US Goods For Tariff Retaliation: China announced a $60 billion list of U.S. goods on Friday, including coffee, honey and industrial chemicals for retaliation if Washington goes ahead with its latest tariff threat.