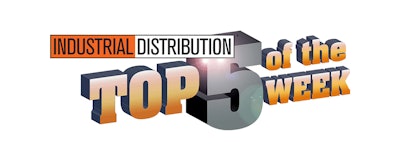 As we roll into August, we're now less than three weeks from starting to unveil ID's 2018 Big 50 List. This week, thought leadership pieces about embracing change and utilizing LinkedIn complemented earnings news about Timken and Lawson Products and acquisition news for Purvis Industries.
Here's this week's Top 5
Distributors Must Align Themselves With Change: AD chairman and CEO Bill Weisberg explains what being open to change really means for distributors and why it's critical for success.
Timken Announces 2nd Acquisition In 4 Days, Will Add Rollon: Just three days after announcing a pending acquisition of precision drive maker Cone Drive, bearings supplier Timken followed up on Friday by stating it has agreed to acquire Rollon Group, a manufacturer of engineered linear motion products based near Milan, Italy.
Lawson Q2 Sales Soar On Acquisition, Along With Strong Organic Growth: Chicago-based MRO products distributor Lawson Products reported its 2018 second quarter financial results on Thursday, led by a major jump in year-over-year sales, accompanied by strong organic growth.
Purvis Industries Acquires Wyoming's Powder River Power: Dallas, TX-based bearings and power transmission distributor Purvis Industries on Monday announced that effective July 30, they have acquired substantially all the assets, brand rights, websites, personnel and intellectual property of Powder River Power Inc., located in Gillette, WY.
Making LinkedIn Work For Distributor Salespeople, Pt. 3 - Prove Your Value: Today's buyers do considerable research online before they buy from a salesperson or a company, so today's distributor salesperson must win them over, build trust and establish their value online. Here in the third and final part of this series, Mike Sawchuck provides seven tips on being an effective strategic social seller.