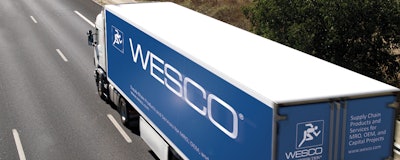 Pittsburgh, PA-based industrial and electrical products distributor WESCO International reported its 2018 second quarter financial results on Thursday, showing continued strong year-over-year (YoY) gains in sales and profit.
The company posted Q2 total sales of $2.104 billion, up 10.2 percent YoY, following a gain of 12.5 percent in Q1. Organic sales grew by 9.0 percent in Q2, following organic growth of 10.9 percent in Q1. Q2 organic sales were up 7.7 percent in the U.S.
WESCO had a total Q2 profit of $58 million, up 17.0 percent compared to $49.5 million a year earlier and up from $44.4 million in Q1. Q2 operating profit of $91.2 million grew 10.4 percent from $82.6 million a year earlier and Q1's $73.2 million. Meanwhile, Q2 gross profit of 19.0 percent dipped from the 19.2 percent it had a year earlier.
"Our broad-based return to growth, which began in mid-2017, continued in the second quarter," said John Engel, WESCO chairman, president and CEO. "Organic sales grew 9 percent, with all end markets and geographies contributing to growth for the fourth consecutive quarter. Sales growth was consistently strong throughout the quarter and our backlog expanded to a record high level."
WESCO's markets & customers breakdown is currently:
Industrial - 37%
Construction - 33%
Utility - 16%
CIG (Commercial/Institutional/Government) - 14%
WESCO's products & services breakdown is currently:
General supplies - 40%
Communications & Security - 15%
Wire, Cable & Conduit - 15%
Lighting & Sustainability - 12%
Electrical Distribution & Controls - 10%
Automation, Controls & Motors 8%
In WESCO's Industrial segment, Q2 sales of $764 million grew 6.9 percent YoY and grew 0.2 percent sequentially, with Q2 organic sales up 5.8 percent YoY. Q2 construction sales of $714 million grew 9.6 percent YoY and grew 7.2 percent sequentially, with Q2 organic sales up 7.9 percent.
WESCO increased its full-year sales growth outlook to a range of 6 to 9 percent, up from the 5 to 8 percent growth outlook it shared in its Q1 report.