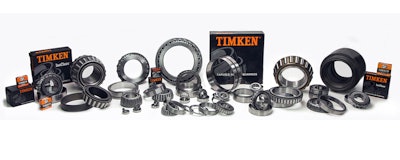 We're in another quarterly earnings reporting period, with many well-known publicly-traded industrial suppliers posting their latest fiscal performance figures. Here's a roundup of the key numbers posted by Timken, Essendant, Barnes Group, Air Liquide, Anixter and National Oilwell Varco.
Timken
Fresh off announcing two acquisitions last week, North Canton, OH-based bearings and power transmission products supplier Timken reported its 2018 second quarter financial results on Tuesday.
The company posted Q2 sales of $906.3 million, up 20.7 percent year-over-year (YoY), which the company said was driven by increases in volume and market strength, along with benefits of acquisitions and currency.
Timken had a Q2 net profit of $91 million, compared to $82.5 million a year earlier, while adjusted profit of $87.2 million was up from $54 million a year earlier.
By business segment in Q2:
Mobile Industries sales of $489.1 million increased 19.8 percent YoY, with acquisitions adding 7.5 percent of sales. Organic sales jumped 12.2 percent, while EBIT of $54.5 million improved from 8.4 percent of sales a year earlier to 11.1 percent in Q2.
Process Industries sales $417.2 million increased 21.9 percent YoY, which the company attributes to broad strength across the distribution, OEM and services sectors, along with favorable impacts from pricing and currency. Q2 EBIT of $90.6 million improved from 17.6 percent of sales a year earlier to 21.7 percent in Q2.
"We delivered an outstanding quarter and remain on track for an excellent year," said Richard Kyle, Timken president and CEO. "We are successfully growing our business organically, and the acquisitions we completed last year are performing at high levels. As a result, we posted significant revenue gains, expanded operating margins and reported record earnings per share. In addition, we further advanced our strategy, announcing plans to add Cone Drive and Rollon to our Timken portfolio of strong industrial brands."
Essendant
Workplace essentials distributor Essendant reported its Q2 financials on July 26. The company posted Q2 sales of $1.25 billion, down 0.5 percent YoY, while just missing breaking even in profit with a net loss of $97,000. Gross profit of $173.2 million was down from $177.6 million a year earlier.
By product category, Essendant's Q2 sales were as follows:
JanSan Products: decreased $3.4 million YoY, or 1.0%, to $346.3 million.
Technology Products: decreased $10.9 million, or 3.5%, to $298.8 million.
Traditional Office Products: decreased $10.1 million, or 5.4%, to $176.6 million.
Industrial Supplies: increased $16.9 million, or 11.6%, to $163.0 million.
Cut-sheet Paper Products: increased $6.4 million, or 5.8%, to $116.0 million.
Automotive Products: increased $3.2 million, or 4.0%, to $85.4 million.
Office Furniture: decreased $6.9 million, or 9.9%, to $63.0 million.
Barnes Group
Bristol, CT-based Barnes Group reported its Q2 results on Friday. The company had Q2 sales of $375 million, up 3.0 percent YoY, with organic sales up approximately 1 percent. Barnes had a Q2 net profit of $49.4 million, up 9.8 percent YoY.
Four days before its Q2 report, Barnes Group announced the acquisition of Industrial Gas Springs Group Holdings Limited. IGS is a recognized designer, manufacturer and supplier of customized gas springs based in London, England, with U.S. distribution and assembly capabilities in Chicago and Philadelphia.
By business segment in Q2, Barnes Industrial sales of $246.9 million were down 1 percent YoY, while Aerospace sales of $125.7 million jumped 12 percent.
Air Liquide
Paris-based Air Liquide — which owns Radnor, PA-based Airgas — reported its Q2 results on Monday. The company posted total sales of U.S. $6.1 billion, down 0.7 percent YoY as reported, and down 5.7 percent on a comparable basis.
Air Liquide's Q2 Gas & Services revenue in Q2 was U.S. $5.7 billion, up 0.1 percent YoY as reported and up 5.1 percent comparably.
In the Americas, Air Liquide's Q2 sales of U.S. $2.3 billion were down 6.5 percent YoY as reported, and up 4.6 percent comparably.
Anixter
Glenview, IL-based electrical products distributor Anixter International reported its Q2 results on July 26. Anixter had Q2 sales of $2.1 billion, up 7 percent YoY, while net profit of $34.8 million fell 13 percent. Anixter's Network & Security Solutions sales of $1.1 billion increased 6.5 percent; Electrical & Electronics sales of $606 million increased 8 percent; and Utility Power Solutions sales of $436 million increased 6 percent.
National Oilwell Varco
On July 26, Houston-based National Oilwell Varco reported Q2 sales of $2.11 billion, up 20 percent YoY and up 17 percent sequentially from Q1. NOV's Q2 net profit of $24 million compared with a $74 million loss a year earlier.