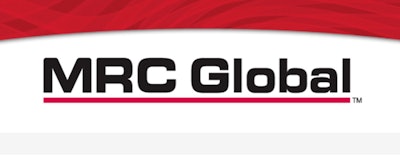 Houston-based MRC Global — No. 9 on Industrial Distribution's Big 50 List — reported its 2018 Q2 fiscal results on Wednesday, led by continued major improvement in year-over-year (YoY) sales and profit.
The industrial pipe, valve and fittings products distributor posted Q2 total sales of $1.08 billion, up 17.4 percent YoY, and up approximately 7 percent from Q1 of this year. It was the company's second straight billion-dollar quarter after a streak of 10 straight quarters under $1 billion, and follows YoY sales gains of 17.2 percent in Q1 and 25.6 percent in Q4 2017.
MRC Global posted a total Q2 profit of $22 million, compared to $6 million a year earlier and $12 million in Q1. Q2 operating profit of $41 million, compared to $17 million a year earlier and $18 million in Q1. Q2 profit margin of 16.4 percent bumped up from 16.2 percent a year earlier, while adjusted EBITDA of $78 million improved $34 million over a year earlier.
Andrew R. Lane, MRC Global's president and chief executive officer stated, "Our second quarter results demonstrate solid execution in a positive oil and gas macroeconomic environment," said Andrew Lane, MRC president and CEO. "Adjusted EBITDA of $78 million was 7.2 percent of sales in the second quarter due to growth in all our end‑market sectors, an improved gross profit percentage and disciplined cost control. We remain positive on the balance of 2018 as our customers continue to maintain their spending plans in our three end-markets."
By geography in Q2:
U.S. sales of $878 million increased 22 percent YoY, with all end markets showing strong growth. Midstream sales grew 20 percent, downstream grew 29 percent and upstream grew 19 percent.
Canadian sales of $80 million grew 16 percent YoY, led by growth in upstream and downstream
International sales of $124 million decreased 7 percent YoY, primarily due to non-recurring midstream pipeline project sales in Australia in 2017
By business sector in Q1:
Upstream sales of $307 million increased 19 percent YoY, led by the U.S. and Canada
Midstream sales of $472 million increased 12 percent YoY, led by sales to gas utility customers
Downstream sales of $303 million increased 24 percent YoY, led by the U.S.