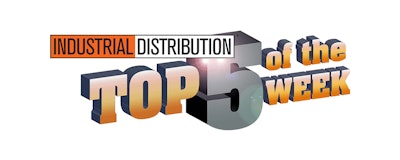 A number of items that were announced late last week were among the most-read items on ID, including news from Motion Industries, Essendant, HD Supply and Parker Hannafin, while our visit to Grainger's largest Contact Center was also of high interest.
Here's this week's Top 5
Motion Industries Acquires Calif. MRO Distributor Power Industries: Birmingham, AL-based Motion Industries — No. 6 on Industrial Distribution's 2017 Big 50 List — is staying busy. The MRO distributor has acquired Santa Rosa, CA-based Power Industries Inc., also known as Santa Rosa MRO, in a deal completed May 1. Terms were not disclosed.
ID Goes Inside Grainger's Largest Contact Center: Earlier this month, I visited Grainger's Janesville, WI contact center for a tour and chat with its leadership. Learn how the center handles more than 27,000 customer interactions every day.
Pending S.P. Richards Deal, Essendant Gets Buyout Offer From Staples: Last week, it was announced that Staples is pursuing buying diversified workplace essentials distributor Essendant, making an offer just five days after Essendant and Genuine Parts Company announced a merger with GPC's office products subsidiary.
HD Supply Officially Opens New Atlanta Headquarters: Having moved in during mid-April, HD Supply officially opened its new eight-story, 222,500-square-foot headquarters and leadership development center last Thursday in Atlanta. Get the details here.
Report - Parker To Combine Industrial & Hydraulic Hose Divisions: Parker Hannifin reportedly is combining its industrial and hydraulic hose businesses into a new Hose Products Division, though distributor and manufacturer customers should see no change in how they do business with the company.