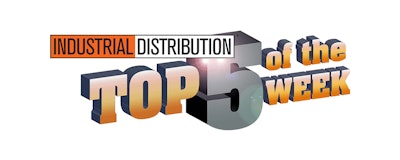 While recaps of the latest quarterly financial numbers for industrial distributors and suppliers were popular items these past two weeks on ID, a recap of a column posted on Forbes suggesting Amazon should acquire Grainger this year was by far the most-viewed item.
Here's this week's Top 5
Forbes Columnist - Grainger Should Be On Amazon's 2018 Shopping List: The concept of Amazon acquiring an industrial distributor hasn't been discussed much within media publications. But a new column by the head of a manufacturing ERP provider discusses why Amazon should target Grainger this among four other major companies to support the e-commerce giant's acquisition strategy.
Reports - Parker Hannifin To Close Kent, OH Plant: According to multiple reports, industrial products supplier Parker Hannifin plans to close its production plant in Kent, OH in a move that will impact 52 workers.
Grainger Grew Medium-Sized Customer Volume By 30% In Q1: Grainger's recent strategic pricing actions aimed to boost its medium-sized customer base, and it appears to be paying off as those customers' volume grew by a whopping 30 percent in Q1, leading to overall company sales growth of nearly 9 percent year-over-year.
Applied's Q3 Fluid Power Sales More Than Double Following FCX Buy: Roughly two months after completing its $768 million acquisition of fellow MRO products distributor FCX Performance, Applied Industrial Technologies reported its 2018 third quarter fiscal results on Thursday, which showed major sales gains from the FCX addition along with strong organic growth.
Stanley BD's Q1 Organic Sales Slow As It Completes $440M Buy Of Nelson Fastener Systems: Industrial products conglomerate Stanley Black & Decker's sales continued their strong growth, through organic growth decelerated and profits were down across the board.
No Top 5 last week as I was out of the office most the week on vacation, doing all the touristy stuff in/around Washington D.C.