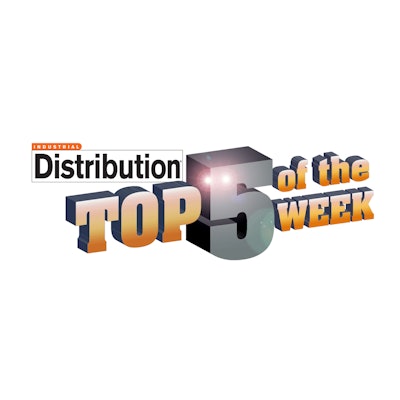 Interline Brands being fined $2 million and Honeywell announced $7B+ worth of spin-offs and Fastenal's Q3 earnings figures were all big items on ID this past week, while a sales management best practice article and expansion news for an Amazon delivery service also garnered attention.
Here's this week's Top 5
Interline Brands To Pay $2 Million Settlement For Overcharging: Massachusetts Attorney General Maura Healey announced Tuesday that Home Depot subsidiary Interline Brands — No. 14 on Industrial Distribution's Big 50 List — will have to pay nearly $2 million to settle allegations that the company overbilled two state agencies for cleaning supplies that it sold under contracts with them.
Honeywell To Spin Off Businesses Worth More Than $7 Billion: Honeywell will separately spin off its Homes products portfolio and ADI global distribution business into a company expected to have $4.5 billion in annual sales, and its Transportation Systems business into a company expected to have $3 billion in sales.
Onsite, Vending Power Accelerated Growth For Fastenal In Q3: Fastenal's third quarter was capped by a 15.3 percent daily sales growth in September — the company's best month since December of 2014. Meanwhile, its installed vending machine count now stands above 69,000 and it signed nearly twice as many Onsite locations in Q3 than a year earlier.
5 Ways Managers Kill Performance (And Sometimes Companies): Many managers are still using outdated and ineffective ideas and methods that can limit, or even eliminate their ability to deliver great results. Be sure you're not doing the same. Waypoint Analytics' Randy MacLean explains here.
Report - Amazon Tests Delivery Service, Plans U.S. Expansion: Amazon is reportedly conducting a pilot test of its own delivery service and hopes to expand across the U.S. beginning next year in a move likely to draw into competition with longtime parcel partners UPS and FedEx.