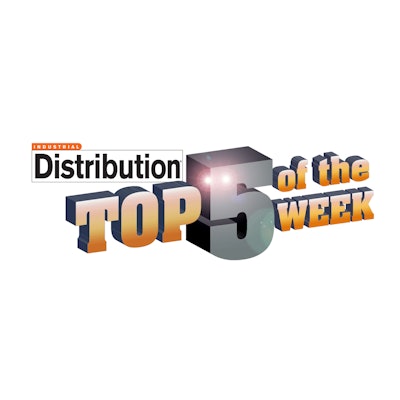 In a week short on merger & acquisition news or major company announcements, it was a trio of thought-leadership pieces that led content on ID as of late.
Here's this week's Top 5
What It Takes to be a Top-achieving Salesperson: Every salesperson wants to be a top achiever, but few are willing to do what it takes. Some salespeople lack the skill to succeed, others lack the will to succeed. Top-achieving salespeople have both. Here, Paul Reilly covers key attributes of top salespeople.
Amazon Business, Pt. 2 - What's Missing?: Posted Sept. 14, this piece still had considerable traction thoughout this week. Through Amazon Business, Amazon has established a firm presence in the MRO distribution market. But despite Amazon's size and ordering convenience, there are aspects of it that are certainly lacking compared to traditional distribution channels. Nicole Mahaffey explains in her follow-up to Part 1.
What Distributors Need to Know About the Collapse of Retail: Evergreen Consulting's Brent Grover details what distributors must learn from what is happening in retail, and the parallel between it and distribution.
Industrial Distribution's 2017 Big 50 List: The condensed, easy-reference version of our Big 50 List was posted Sept. 6 and continues to be one of our most-viewed items.
Virtual Tour - Watch How Robots and Humans Collaborate at Amazon: Amazon's warehouses, which now employ more than 125,000 people across the U.S., are being outfitted with the latest in robots and tech, but not at the expense of human jobs. Take a 360-degree virtual video tour of the company's fulfillment center in Cartaret, NJ, to see how the collaboration works first-hand.
Last week's Top 5