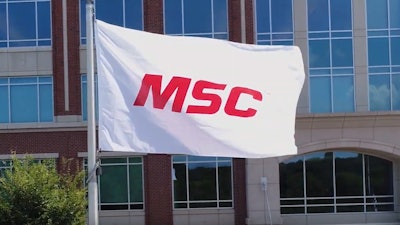 MSC Industrial Supply is typically the first of Industrial Distribution's Big 50 List companies to report its quarterly sales financials, which makes the metalworking and MRO supplies distributor a good barometer of the industrial products sector's overall health.
MSC — No. 8 on ID's 2019 Big 50 List — reported its 2020 first quarter fiscals on Wednesday, less than three weeks after announcing the resignation of chief financial officer Rustom Jilla, which goes into effect Jan. 17. Jilla, who was been MSC's CFO since July 2015, will become CFO of the newly-combined company resulting from the merger of DuPont's Nutrition and Biosciences Unit and International Flavors & Fragrances (IFF), effective Jan. 20.
Melville, NY-based MSC Industrial Supply's Q1 figures show that slowdown that has plagued the industrial supply sector for at least the second half of 2019 is still very much in effect, with the company's Q1 sales of $824 million down 1.0 percent year-over-year (YoY), following Q4 2019 sales that were up 0.6 percent. MSC's Q1 operating profit of $90.3 million was down 12.3 percent YoY, while total profit of $65.4 million was down 11.9 percent.
"Our fiscal first quarter results, including sales that exceeded the midpoint of our guidance and gross margin at the high end of our expectations, reflect solid execution in a weak demand environment," said Erik Gershwind, MSC president and CEO. "Softness in industrial demand was broad-based and we continued to see customers and suppliers eliminate shifts and, in some pockets, announce layoffs and restructurings."
By month in Q2, MSC had the following total sales and average daily sales:
October — $265 million, -1.2% YoY
November — $237.6 million, -1.2% YoY
December — $249.6 million, -2.1% YoY (Preliminary)
By customer type, MSC's Q1 sales to manufacturing customers declined 1.3 percent YoY, and dipped 0.3 percent to non-manufacturing customers, compared to growth of 8.7 percent and 6.9 percent, respectively, in Q1 2019.
By region, MSC's Q1 sales growth was as follows, with Q1 2019 in parenthesis:
Midwest — -4.6% (+12.1%)
Northeast — +1.7% (+5.3%)
Southeast — -3.1% (+7.7%)
West — +0.5% (+5.6%)
International & Other — +36.7% (+4.3%)
"With respect to our fiscal second quarter, we attribute much of December's weakness to holiday timing, shutdown schedules, and end of year purchasing decisions by our customers," Gershwind said. "As it is too early to conclude if underlying trends have worsened, our forecast assumes that January and February follow the typical lift in average daily sales from November. In terms of pricing, we anticipate taking a mid-year price increase towards the end of the quarter as we have seen some continued supplier list price movement."
Other notes
Of MSC's $824 million Q1 sales, $500 million, or 60.7 percent, came via e-commerce, up from 60.0 percent in Q4 2019.
MSC ended Q1 2019 with 2,349 field sales associates, down 2.7 percent from Q4 2019 and down 2.8 percent YoY.
MSC expects 2020 Q2 sales to be between $781 and $798 million. which would compare with $823 million in Q2 2019 and $769 million in Q2 2018. MSC expects average daily sales to decrease about 2.5 percent YoY at the midpoint of Q2 2020.
MSC had Q4 2019 sales of $842.7 million, up 0.6 percent YoY, while total net profit of $66.6 million was down 8.8 percent. For the full year, MSC's 2019 sales came in at $3.36 billion, up 5.0 percent from 2018. Total operating profit of $400 million decreased 4.9 percent from 2018, while total net profit of $288.9 million decreased 12.9 percent.