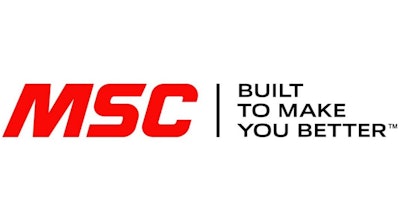 As one of the first large industrial distributors to report its quarterly financial results, MSC Industrial Supply on Thursday shared its 2019 fourth quarter and full-year fiscal results.
The Melville, NY-based company posted 2019 Q4 sales of $842.7 million, up 0.6 percent year-over-year and up 2.1 percent on an average daily sales basis. Q4 operating income of $90.5 million decreased 16.0 percent, while total net profit of $66.6 million was down 8.8 percent.
"Our fiscal fourth quarter reflected solid execution in a weakening demand and pricing environment," MSC president and CEO Erik Gershwind said. "Against this backdrop, we made encouraging progress against the initiatives announced last quarter, eliminating the bottlenecks in new business conversion, deepening our supplier partnerships to drive future profitability and market share gains, and beginning to reshape and resize the organization."<
For the full year, MSC's 2019 sales came in at $3.36 billion, up 5.0 percent from 2018. Total operating profit of $400 million decreased 4.9 percent from 2018, while total net profit of $288.9 million decreased 12.9 percent.
E-commerce represented 60.0 percent of MSC's total 2019 revenue, essentially identical to 2018. That figure includes sales made through EDI, VMI systems, extensible markup language ordering-based systems, vending machine systems, hosted systems and other electronic portals, but does not include e-commerce sales from recently-acquired All Integrated Solutions and MSC Mexico.
MSC ended 2019 with 6,700 employees. That figure peaked at 6,866 at the end of Q2.
MSC said it expects Q1 2019 sales to be between $811 million and $827 million, with midpoint average daily sales expected to dip roughly 1.5 percent year-over-year.