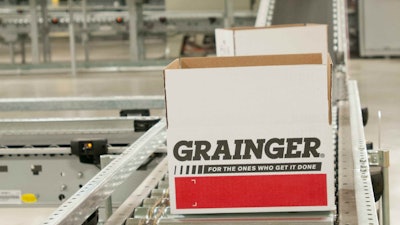 Grainger
W.W. Grainger reported its 2019 third quarter financial results, which were led by solid year-over-year (YoY) growth for the industrial products supply giant.
The Lake Forest, IL-based company posted Q3 sales of $2.95 billion, which was up 4.1 percent YoY, while adjusted net profit of $233 million was down slightly from $240 million a year earlier. Q3's adjusted operating margin of 11.5 percent also dipped from 11.7 percent in Q3 2018.
Grainger's Q3 daily sales increased 2.5 percent YoY, which the company contributes to increased volume as price inflation and foreign exchange impacts were flat.
Grainger's Q3 US sales of $2.28 billion were up 4.1 percent, while Canada sales of $129 million were down 13.4 percent.
"While the global demand environment continued to weaken, our U.S. and endless assortment businesses gained share as we made solid progress on our key growth initiatives and were diligent in managing expenses," said DG Macpherson, Grainger chairman and CEO. "We remain confident in our ability to achieve results within our 2019 total company guidance ranges (2.0 to 5.0 percent) as provided in our second quarter earnings release."

In the company's Q3 earnings call presentation, Grainger detailed growth initiatives it has for its single-channel online U.S. business, Zoro.
Grainger said Zoro U.S. currently has 3.1 million SKUs and that it plans to add 10 million items over the next 3 to 5 years. A new product informaiton system for Zoro will have less reliance on the Grainger Supply Chain and will have the ability to add SKUs faster than the Grainger process.
The company launched a branding campaign for Zoro in September alongside a new analytics platform. Grainger said it is adding new engineering, marketing and analytics talent for Zoro, which is "running the MonotoraRO playbook."