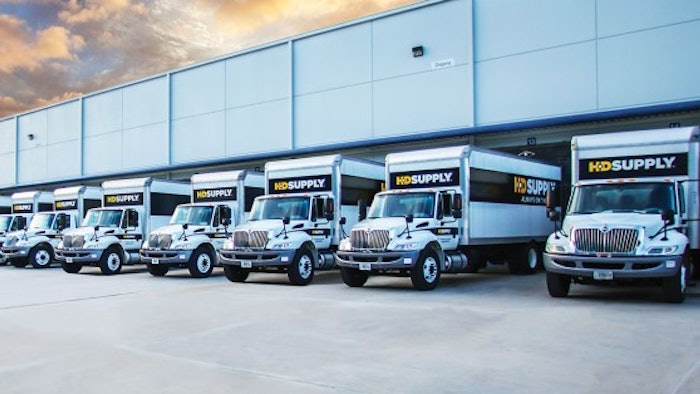 HD Supply — No. 2 on Industrial Distribution's 2019 Big 50 List — reported its 2019 third quarter financial results on Tuesday, showing a modest gain in sales year-over-year and major jump in profit.
The company, which announced Sept. 24 that it will split into two equal-sized companies by mid-fiscal 2020, posted Q3 total sales of $1.64 billion, up 2.0 percent year-over-year. Operating profit of $205 million declined 3.8 percent, while total profit of $132 million surged 61.0 percent — primarily due to a $61 million loss on debt extinguishment that the company had in Q3 2018. Adjusted total profit of $166 million was down 9.8 percent year-over-year.
"Our associates remain committed to delivering best–in-class service, despite a continued challenging environment and the ongoing activities of splitting the company into two market-leading, stand-alone businesses," stated Joe DeAngelo, chairman and CEO of HD Supply. "We remain focused on helping our customers succeed, and I am encouraged by our continued growth and strong cash flow generation."
By HD Supply business unit in Q3 2019:
Facilities Maintenance (FM) sales of $826 million increased 2.0 percent year-over-year, with adjusted EBITDA that was flat.
Construction & Industrial (C&I) sales of $818 million increased 1.9 percent year-over-year, with adjusted EBITDA down 1.0 percent.
By month in Q3, HD Supply's total sales for August, September and October were $521 million, $494 million and $629 million, respectively. Each month had the same amount of selling days as in 2018, with those months posting average year-over-year daily sales growth of 1.6 percent, 2.6 percent and 1.6 percent, respectively.
HD Supply said that preliminary November sales were $436 million, with average daily sales up approximately 2.5 percent — up 2.5 percent in FM and up 2.4 percent in C&I.
HD Supply is expecting Q4 2019 total sales of between $1.36 billion and $1.41 billion and net profit in the range of $65 million to $76 million. The company expects full-year 2019 sales to be between $6.12 billion and $6.17 billion and net profit between $439 million and 450 million.