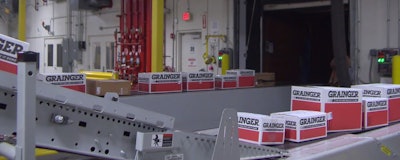 MRO products distribution giant Grainger — No. 2 on Industrial Distribution's Big 50 List — reported its 2017 full year and fourth quarter financial results on Wednesday, which showed considerable gains in sales and profits compared to a year earlier while the company continued to slash its branch count.
Grainger's strategic pricing initiatives that accelerated in the first half of 2017 led to a solid full-year sales increase that grew faster in Q4, while profits dipped for the full year but more than doubled year-over-year (YoY) in Q4.
Grainger ended 2017 with full year sales of $10.42 billion, up 2.8 percent compared to 2016, during which sales grew 1.7 percent. Grainger posted 2017 total profit of $586 million, down 3.3 percent from 2016, operating profit of $1.05 billion declined 6.3 percent and gross profit of $4.1 billion was flat.
During Q4 — which had 63 selling days in 2017 and 2016 — Grainger's total sales of $2.63 billion jumped 6.5 percent YoY, following 1.5 percent growth in Q3, 2.0 percent growth in Q2 and 1.4 percent growth in Q1. Daily sales grew by 7 percent in Q4 — growing by 6 percent in October; 8 percent in November; and 5 percent in December. The company said the Q4 sales increase was driven by an 11 percentage point increase from volume, partially offset by a three-point decline from price and a one-point decline from the 2017 divestment of Techni-Tool. Grainger's Q4 total profit of $151 million dwarfed the $60.7 million it had a year earlier, operating profit of $240 million jumped 37.7 percent and gross profit of $1.02 billion increased 3.2 percent, while Q4 gross margin dipped by 1.3 percentage points.
Like in Q3, Grainger's Q4 sales and profit figures exceeded Wall Street expectations.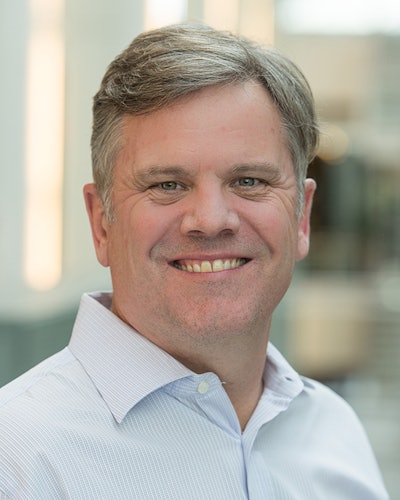 "Overall we were pleased with the year," Grainger chairman and CEO D.G. Macpherson said. "We made progress by removing the pricing barrier and improving service for customers while improving our cost structure. This continued in the fourth quarter with strong performance, as customers responded positively to our actions. We're encouraged that we remain on track with our volume growth and expense management goals in an improving demand environment. In Canada, we are in the early stages of a business model reset and like the progress we are seeing. We remain focused in 2018 on providing the best experience and value for our customers."
Meanwhile, Grainger continued its overall branch network downsizing during Q4 and throughout 2017. The company closed 56 branches during Q4, with only two of them in the United States. In Q4 Grainger closed 18 branches in Canada, 25 branches of its Netherlands-based Fabory business, seven U.K.-based Cromwell branches and four branches in Columbia. Grainger closed 98 branches throughout 2017, ending the year with an even 500. That is down from 667 it had at the end of 2015. Grainger ended 2017 with 31 distribution centers.
By business segment in Q4:
In the U.S. — where Grainger did 75.7 percent of its total Q4 business — sales of $1.99 billion increased 5.0 percent YoY, while operating margin decreased by 80 basis points to 15.0 percent. The sales increase was driven by an 11 percentage point gain from volume and a five-point decrease from price.
In Canada — which comprised 7.2 percent of Q4 business — Q4 sales of $189 million increased 4.4 percent YoY, while operating margin increased 360 basis points to -2.3 percent.
In Grainger's 'Other Business' segment — which includes its Europe, Asia and Latin America businesses and single-channel online business — Q4 sales of $559 million comprised 21.3 percent of total company sales and increased 15.5 percent YoY.
By customer size in Q4:
Large customers had 8 percent daily volume growth — up from growth of 5 percent in Q3; 4 percent in Q2; and 3 percent in Q1
Medium customers had 26 percent daily volume growth — up growth of 15 percent in Q3; 3 percent in Q2 and a 7 percent decline in Q1
Q4 U.S. sales by customer end market were as follows:
Reseller: up low-double digits
Heavy manufacturing: up high-single digits
Natural resources: up mid-single digits
Retail: up mid-single digits
Contractor: up mid-single digits
Commercial: up mid-single digits
Government: up low-single digits
Light manufacturing: up low-single digits
Here's how Grainger's total and U.S. daily sales growth have looked by month over the past 12 months:
| | | |
| --- | --- | --- |
| Month | Total Daily Sales Growth | U.S. Daily Sales Growth |
| December '17 | +5% | +4% |
| November '17 | +8% | +6% |
| October '17 | +6% | +5% |
| September '17 | +7% | +5% |
| August '17 | +1% | -1% |
| July '17 | +2% | 0% |
| June '17 | +2% | 0% |
| May '17 | +3% | +3% |
| April '17 | +1% | 0% |
| March '17 | +3.0% | +1.0% |
| February '17 | +3.0% | 0% |
| January '17 | -2.0% | -3.0% |
| December '16 | +6.5% | +4.3% |
| November '16 | -2.6% | -2.6% |
| October '16 | +0.2% | -0.7% |