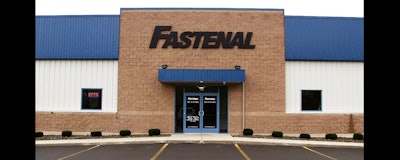 Winona, MN-based Fastenal — No. 7 on Industrial Distribution's Big 50 List — reported its 2017 fourth quarter and full year fiscal results on Wednesday, which showed continued strong growth across the board.
For the fourth quarter, total sales of $1.09 billion jumped 14.8 percent year-over-year (YoY), following an 11.8 percent increase in Q3. Fourth quarter daily sales improved by that same 14.8 percent. The company's spring 2017 acquisition of Manufacturers Supply Company (Mansco) boosted overall sales by 1.4 percentage points, while organic sales increased 13.4 percent. Q4 gross profit improved 12.6 percent (down 97 basis points as a percentage of net sales), operating profit increased 11.4 percent and total profit soared 32.8 percent to $152.4 million.
Fastenal said its organic sales increase was driven by higher unit sales from improving market demand, with the most notable growth from industrial vending and Onsite locations. Fastener products represented 35.0 percent of total Q4 sales, with daily sales of fastener products up 13.4 percent YoY (3.9 percentage points attributable to the Mansco acquisition). Meanwhile, non-fastener products sales grew 16.1 percent on a daily basis.
Fastenal signed 4,266 industrial vending machines during Q4, up 13.5 percent YoY. The company's installed device count on Dec. 31 was 71,421, up 13.7 percent YoY. Fastenal also signed 57 new Onsite locations in Q4, compared to 43 signings in Q4 2016. Fastenal's 605 active sites as of Dec. 31 are an increase of 50.9 percent from a year earlier.
Other Q4 notes:
Fastenal signed 32 new national account contracts in Q4
National account customers represented 49.8 percent of total Q4 sales
Daily sales to national account customers grew 18.5 percent YoY in Q4
72 of Fastenal's top 100 customers grew sales in Q4, with 54 of them growing 10 percent or more
Fastenal's total employee headcount at the end of Q4 was 20,525, up 4.8 percent YoY, or 941. Of that increase, 458 employees were added to in-market locations.
Fastenal opened three branches in Q4 and closed 37, bringing its total public branch count to 2,383 at the end of Q4, down 4.8 percent YoY. Its number of in-market locations increased 2.9 percent to 2,988.
Full Year 2017
For the full year, Fastenal's total 2017 sales of $4.39 billion increased 10.8 percent from 2016, with daily sales up 11.3 percent. Gross profit improved 10.1 percent, operating profit improved 10.8 percent and total profit jumped 15.8 percent.
"A return to double-digit sales and pre-tax earnings growth in 2017 was a great way to celebrate our 50th year in business," said Dan Florness, Fastenal president and CEO. "Our customers' demand improved, this demand lifted our business. Also encouraging was how the hard work of Fastenal employees generated accelerating signings and sales growth in our growth drivers. This momentum, our ability to leverage operating expenses, and the benefits of tax reform have set up 2018 to be another strong year for Fastenal."