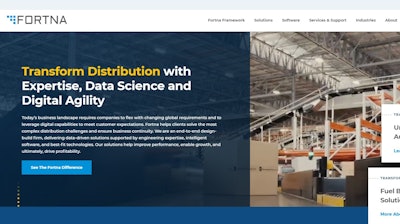 ATLANTA, GA — Fortna, a global automation, engineering services and software company for warehousing and distribution, has launched a new logo and website as part of its corporate rebranding initiative. The refreshed brand will continue to focus on reinforcing the Company's mission of providing transformative distribution solutions.
The new website features a refreshed color palette and logo as well as new content and reorganization.  Visitors to the site will be guided through The Fortna Distribution Optimization Framework, the company's unique methodology to transform distribution capabilities for its clients with proprietary data-driven solution design and delivery. The site is organized into Solutions, Software, Service and Support, as well as a section on Industries served featuring client success case histories and thought leadership. High-quality images and videos are included throughout the site including an Insight and Resources section with downloadable content addressing today's business challenges.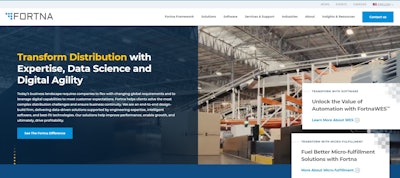 "Our refreshed brand will continue to represent and underscore the power we bring to our clients as they transform their operations to ensure business continuity and competitive advantage," stated Robert McKeel, CEO of Fortna. "The new corporate identity reflects our innovative and technology-forward approach to solving a wide range of complex distribution challenges with our proprietary data-driven design, engineering expertise and our agnostic technology solutions," he continued.
Committed to client success, the company continues to develop unique solutions to expand, enhance and amplify digital capabilities. In addition to the design, development, and delivery of business case-justified distribution solutions, Fortna also offers unmatched lifecycle services and support to optimize system performance and profitability.
Fortna invites you to visit its new website at https://www.fortna.com/.
Fortna partners with the world's leading brands to transform their distribution operations to keep pace with digital disruption and growth objectives. Known world-wide as The Distribution Experts, Fortna designs and delivers intelligent solutions, powered by FortnaWES software, to optimize fast, accurate and cost-effective order fulfillment.