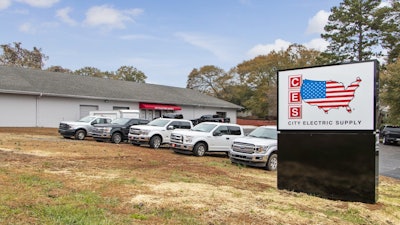 CES
GREER, SC — City Electric Supply recently opened its first Greer, SC location. The company cited a BMW plant that employs over 9,000 individuals and the GSP Airport for making Greer an obvious choice for its newest location.
"We found a building that was built between the late '70s and early '80s and knew it was the one," branch manager Justin Powell said. "The building was an old HVAC supply house that had seen better days. We gutted the entire place and designed a space to suit our specific needs."
The team at the Greer location has a combined experience of over 50 years. Powell himself has lived in the area for eight years. He started with CES as a driver for the Simpsonville branch, where he was promoted to operations manager and then to outside sales representative. According to Powell, each of the team members comes from a family of electricians. In addition to extensive experience, the branch has the largest showroom in the district.
City Electric Supply CES is a family-owned electrical wholesale distributor headquartered in Dallas, TX. The company was founded in 1951 by Tom Mackie in the United Kingdom and expanded to the United States in 1983. Today, CES employs more than 3,000 people in almost 500 branches across the U.S.