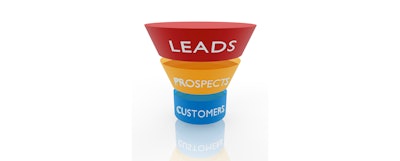 Quotes and orders make up the back-end of the sales cycle, and that is where many industrial distribution companies spend their time. But because customers at this stage have already made many key buying decisions, distributors who focus here have already missed the opportunity to proactively help these customers discover other, better solutions. And because customers at this stage are also driving the sales process, distributors who focus here have very little control and may often find themselves being the third bid.
If you shift your focus to the front end of the sales cycle, you control your business.
When you proactively manage leads and opportunities — which make up the front end of the sales cycle — you give yourself the opportunity to guide your customers toward products and services that will be more likely to meet their needs, increasing the chances that you'll gain a long-term customer in the process.
To make pre-quote touch points with potential customers more successful, you'll need to stop viewing your sales process as a series of isolated, one-time events (i.e. individual quotes) and start viewing it as feedback loop that prepares you for future opportunities and improves your performance over time. When an individual quote is won, for example, you learn something about the products and services that customer values. But this information has limited value when viewed independently.
When this information is incorporated into a larger view of what similar customers are buying and why, this data can lend insights into what your future customers are likely to value.
A thoughtfully-implemented CRM system can help you collect and store customer sales data, but that only gets you halfway. Most companies are only segmenting their customers by one metric: their current sales volume. But to derive actionable insights from the information you've collected on each company, you'll need to be able to segment your customers by much more.
At my company, SalesProcess360, we recommend 4-D account profiling by using four different metrics to identify and analyze each customer: current sales volume, potential sales volume, current products/services, and potential products/services. This level of segmentation — which will take a concerted effort by your sales team — can help you identify and target high-potential accounts. It can also help you identify additional products you could sell to customers.
For more information on account profiling, read my recent SalesProcess360.com blog, Go Deeper with 4-Dimensional Account Profiling.
Brian Gardner is the founder of SalesProcess360 and has spent more than 25 years in sales and sales management in the industrial market. He served as a sales manager for a major regional rep/distribution company for 15 years. SalesProcess360 helps industrial sales organizations get ROI from CRM, no matter the platform. Learn more at salesprocess360.com. Contact him at 504-355-1150 or brian.gardner@salesprocess360.com.