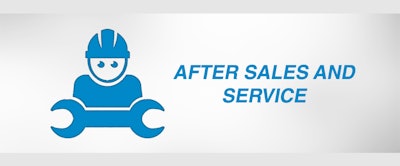 2016 was a tough year for the manufacturers and distributors of long-lasting durable goods — new orders sank by 4.6 percent in November alone. For products like big-rig trucks, orders declined as steeply as 23 percent throughout the course of the year. These trends might sound alarming for manufacturers whose products aren't moving as fast or driving the same revenues as they once did. However, there is a significant, often untapped area of opportunity for manufacturers to boost revenues in these changing times.
After-sales service — the service delivered after the initial sale of a new durable product — opens revenue streams that some manufacturers have only dabbled in. According to UPS research, 35 percent of manufacturers get more than half their annual revenue from after-sales service. But, only 12 percent say it's a key differentiator for their business. This means that revenue and profits from after-sales service could be a potential game-changer for manufacturers experiencing a drop in new product orders.
Below, I outline three key elements manufacturers and distributors must embrace to not only navigate the constantly evolving landscape, but also experience tremendous success.
Service Parts Inventory Management
Inventory management throughout the supply chain has always been a pain point for manufacturers and distributors. For service parts inventory specifically, the expansion of SKUs, the rise in e-commerce and heightened expectations for delivery time have made after-sales service more stressful and complex. But, using the right technologies can help manufacturers ease the burden.
The good news is that a cloud-based service parts management solution can help companies increase both margins and revenue from often sub-optimized after-sales service businesses. It easily integrates into an existing ERP system, and allows manufacturers to track parts, eliminate excess and obsolete parts and forecast when new parts are needed. These practices are critical for meeting customers' increasing service expectations and maintaining an edge over both direct competitors and third-party parts providers. Beyond keeping products in the right place at the right time, inventory management technology also reduces carrying costs — which are estimated at a mind-boggling 25 percent of the value of inventory that's on the shelf.
Service Parts Pricing Optimization
While many executives are keenly aware that pricing is a very powerful revenue and profit lever, they often overlook the opportunities associated with optimizing the prices of service parts inventories, which can often be measured in tens or hundreds of millions of dollars.
Status quo pricing approaches of the past are one of the biggest factors holding back the full optimization of service parts. When it comes to pricing parts, simple cost-plus formulas and Excel spreadsheets are still the norm. But, these outdated methods often cause manufacturers to miss out on substantial revenue and profit opportunities.
When determining part prices — especially in today's "always-on" economy — manufacturers and distributors should be mindful of the different factors that can be used to enhance sales, including shopping data, region and demand. For example, after adopting a dynamic pricing structure in 2013, Amazon saw a 27 percent sales increase. The company has been pushing the boundaries of dynamic pricing ever since. If third party e-commerce vendors are pursuing dynamic pricing to such an aggressive degree, manufacturers must follow suit to remain relevant in after-sales service.
With service parts optimization software, manufacturers and distributors can synchronize pricing at a global level, and easily and automatically adjust it if necessary.
Adopt the Cloud
As decision-making becomes more immediate in business, siloes are now identified as "public enemy number one" for success. By switching over to a cloud infrastructure, manufacturers and distributors can keep their data and operations under one roof. This allows them to streamline workflows across an entire organization, and use real-time business intelligence.
Cloud computing for the supply chain is expanding, and it's projected to be worth $4.4 billion by 2019. A cloud-based system that integrates ERP, pricing and other after-sales processes, for example, allows manufacturers to make the best decisions for their business by linking all of the company's available information together with minimal downtime. This stands to benefit all aspects of business, from customer satisfaction to production.
Despite recent struggles, durable goods manufacturers and distributors shouldn't hang their heads. Instead, they should pay attention to market shifts and realize the profits that can be gained by embracing and maximizing the potential in the after-sales service space.
Gary Brooks joined Syncron in 2015 as Chief Marketing Officer. With 20 years of marketing experience, Brooks is a revenue focused B2B marketing executive who believes in qualitative work with quantitative results to deliver breakthrough revenue performance.