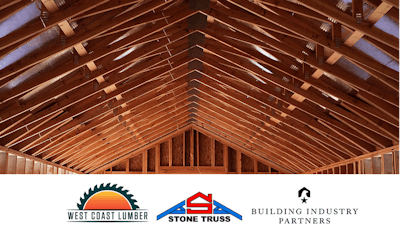 West Coast Lumber
SAN DIEGO – West Coast Lumber, a regional lumber and building materials supplier launched by Building Industry Partners last year, announced the acquisition of San Diego-based Stone Truss, a 30-year-old designer and manufacturer of roof and floor truss systems.
WCL currently serves customers throughout Southern California via four locations in Agoura Hills, Bakersfield, Camarillo and San Diego.
The acquisition marks WCL's entry into the structural component manufacturing category and an evolution of its product offering. The transaction also comes within days of WCL's announcement of Jason Walsh joining the company's leadership team as vice president of component manufacturing.
"Between the acquisition of Stone Truss and Jason joining our team, we are making significant strides with our expansion strategy," said WCL CEO Joe Lawrence. "These advances ensure that we can deliver a wider range of solutions to meet our customers' evolving needs."
Founded in 1986, Stone Truss specializes in the custom design, cutting and manufacturing of wood roof trusses and wood floor trusses for residential, commercial and other applications. The company will continue to operate from its North San Diego County manufacturing facility and has near-term plans to increase its production capacity.
Stone Truss owners Richard Thomas and Charlie Signorino will remain with the company, offering continuity for customers and employees. Stone Truss employees will have the opportunity to benefit from WCL's people-focused practices, including its employee equity plan.
"We are proud to have the highly skilled and talented Stone Truss team join the growing WCL family," said Maged Diab, director at BIP. "For three decades, Stone Truss has built a reputation as a forward-thinking, customer-centric company that takes care of its people. Their commitment to service, innovation, and their employees are fully aligned with WCL. We plan to grow the Stone Truss business meaningfully over time and will be looking for great additional talent to join us."
"We are excited to join WCL and to be part of Stone Truss' next phase," said Thomas. "We believe that this deal provides new opportunities for our team members and expanded services for our customers."
"Richard and I, as well as our dedicated and experienced staff, look forward to working with Joe, Jason and the entire WCL team," said Signorino. "We are eager to hit the ground running and build upon our strong culture of providing our customers with the best products, services, and solutions."
WCL is actively seeking opportunities to invest in component manufacturing companies and partner with business leaders in the category along the West Coast, Arizona and Nevada.