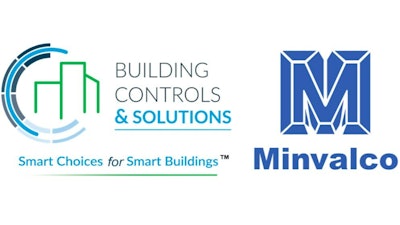 PRNewswire
DALLAS — Building Controls & Solutions is joining forces with Minvalco, a leading provider of building automation systems and components based in Minneapolis.
Minvalco will bring significant control system capabilities to the BCS team in Minnesota and Wisconsin, providing broader coverage and enhanced service to customers across the United States. This acquisition continues the execution of BCS's strategy to grow its leading position in the North American building automation market.
The acquisition of Minvalco will bring more resources, technical expertise and partnerships to expand services for BCS customers.
"We are excited to partner with Dan Sinn at Minvalco to combine two highly skilled Building Automation and Controls teams" said Building Controls & Solutions CEO Eric Chernik. "Our value starts with high-quality products from global brands enhanced by solutions and local in-market technical expertise that brings value-added services to our commercial building customers every day. Our combination with Minvalco continues our quest in our march across North America, adding new branches in the Midwest."
"Joining Building Controls & Solutions will ensure Minvalco continues our industry-leading distribution capabilities and deliver the highest quality and best value our customers have come to know since our inception in 1965," said Minvalco General Manager Dan Sinn.
Headquartered in Dallas with branch locations across Texas, Utah, Louisiana, Arizona, Massachusetts, New York, New Jersey, North Carolina, Wisconsin and now Minnesota, Building Controls & Solutions helps companies create intelligent work environments, maximize environmental efficiencies, and leverage technology to optimize building effectiveness, security and safety.