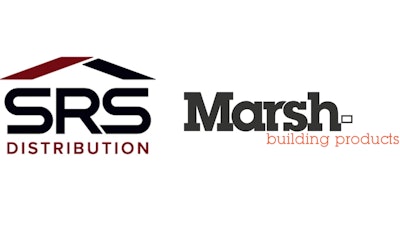 McKINNEY, Texas — SRS Distribution Inc. announced Friday that it has acquired Marsh Building Products Inc., a leading distributor of residential and commercial building products.
Terms of the agreement were not disclosed.
Headquartered in Fort Thomas, Kentucky, Marsh was founded in 1989 by brothers Ken and Mike Middleton, and is run today by President Patrick McNickle. The company operates eight facilities across Ohio and Kentucky and currently employs a team of about 130 people. McNickle will continue to lead the company's team under the Marsh banner, ensuring continuity and consistency for customers, suppliers and employees.
"It is an honor to officially welcome Patrick and the rest of the Company's loyal employees to the SRS family," said SRS President and CEO Dan Tinker. "Marsh has had an immense amount of success over the years thanks to its exceptional customer service and people-first mentality, making it a fantastic cultural fit with SRS. The Company adds considerable complementary product volume to our current footprint in the Midwest, which will enhance our ability to provide a one-stop-shop experience to both new and existing customers throughout the region."
"We are excited to announce that Marsh is joining forces with SRS, one of the most dynamic and fastest growing companies in the building materials industry," Ken and Mike Middleton said in a statement. "This was a carefully considered and purposeful decision to protect our most important asset, our people, and ensure they were being entrusted to an organization that shares the same values as we do. Joining the SRS family of independent companies will create new opportunities for our team, customers, and vendors as we continue to accelerate our track record of sales and market share growth for years to come."