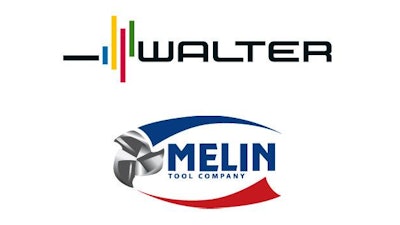 Tübingen, Germany-based metalworking supplier Walter AG announced Jan. 2 that it has reached an agreement to acquire the privately-owned Melin Tool Company, a manufacturer of solid carbide and HSS end mills, drills and countersinks based in Cleveland, OH. Terms of the deal were not disclosed.
Walter — a division under Sandvik Machining Solutions — stated that Melin is a growing company supported by innovations in the solid carbide endmill product family that makes the acquisition a strategic fit to enlarge Walter's milling business in the US.
"The US is a key market for Walter and the acquisition strengthens the company's round tool offering, especially for the aerospace industry and the US channel partner market," the company said. "The acquisition gives Walter customers access to advanced cutting tool solutions and responsive support. A stronger footprint presence of Walter in the USA allows us to grow the inch assortments in line with local market requirements and to support the market with customized tooling solutions even better.
"The acquisition is aligned with our focus on expanding our milling business in round tools and reconditioning capabilities close to customers in the American market.", said Richard Harris, president of Walter. "I am very pleased that we have reached an agreement to acquire Melin Tool Company as it increases our market presence and has a strong innovation focus and high service level that is aligned with Walter's approach to doing business."
Michael Wochna will remain in the Melin company as president.
With an additional warehouse in California, MelinTool Company has approximately 100 employees.
Walter AG has seven production units and about 3,500 employees worldwide. The company offers a range of precision tools for milling, turning, drilling and threading.