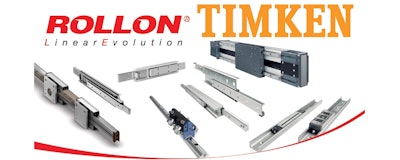 Just three days after announcing a pending acquisition of precision drive maker Cone Drive, bearings supplier Timken followed up on Friday by stating it has agreed to acquire Rollon Group, a manufacturer of engineered linear motion products based near Milan, Italy.
Owned by pan-European firm Chequers Capital and IGI Private Equity, Rollon specializes in the design and production of linear guides, telescopic rails and linear actuators used in a wide range of industries such as passenger rail, aerospace, packaging and logistics, medical and automation.
Terms of the acquisition were not disclosed, but Timken said Rollon's full-year 2018 sales are expected to be about $140 million.
"The acquisition of Rollon will further expand the Timken portfolio of leading industrial brands, allowing us to serve existing and new customers in attractive, high-growth end markets around the world," said Richard Kyle, Timken president and CEO. "Like Timken, Rollon is an expert in motion technology and is recognized for developing customized linear motion products for their customers' application challenges. With its proven operating model and value proposition, Rollon will open up exciting new growth opportunities for the company."
Rollon was established in 1975 and has manufacturing operations in Italy, Germany and the U.S., employing approximately 600 people.
Timken said Rollon's linear motion product line complements its other brands that include Timken, Philadelphia Gear, Groeneveld, Drives and Lovejoy. According to Timken, Rollon does 74 percent of its business in the EMEA region; 13 percent in the Americas and 13 percent in Asia-Pacific; while the company's end market breakdown is:
Distribution - 26%
Industrial - 21%
Logistics & Packaging - 11%
Passenger Rail - 9%
Machine Tool & Automation - 9%
Aerospace - 5%
Medical - 2%
Other - 17%
"With this acquisition, Timken continues its strategy to diversify its portfolio with products and services that also include bearings, gear drives, chain, belts, couplings, automated lubrication systems, industrial clutches and brakes, and a variety of related industrial services," Timken stated Friday.
The acquisition is expected to close in late September of this year. Timken will report its 2018 second quarter financial results on Tuesday.